Over the course of the author's life he has engaged in numerous remodeling projects, as a professional carpenter, as a home owner, and as a renter. He draws on this experience as he explores with you what he considers to be the main principles that should guide you in your choices for your own green remodeling project.

The chapters include fitting your house to your needs, the basics of passive solar design, tips on keeping your house cool, options to power your house with renewable energy, ways to conserve water, employing local, natural and recycled materials, the value of cultivating vegetables, how to naturally store the produce that you grow, and why to consider sharing some facilities with others for economy and sustainability.
The books shown below are arranged according to when they were published, with the most recent ones at the top. If you click on one of the images you will be taken to a page at Amazon.com where you can find out more about the book. If you end up buying one of them, greenhomebuilding.com will receive a small commission that will help cover the cost of maintaining this website. Thanks for your patronage.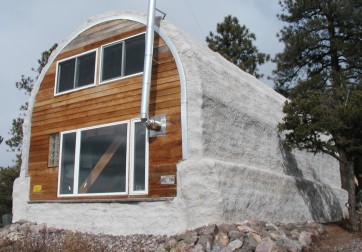 This Carriage House was initially designed to create garage and shop space, as well as office and storage space for the designer's personal use. There is potentially about 900 s.f. of usable floor area on two stories. It is a hybrid design, utilizing earthbags plastered with papercrete, a steel prefabricated Quonset-style vault, concrete floor, and wood-framed end walls. Since the steel vault is completely covered with insulating earthbags, the building is very well insulated, and comfortable year-round. This concept could be converted to residential use, with the addition of kitchen and bathroom functions, and the steel interior finish could be covered with scored sheetrock, tongue & grooved wood, or even cloth. This is rather inexpensive way to create substantial shelter. This design is based on a fairly small (16' X 34') steel building, but these structures are available in a wide range of widths ( up to sizes fit for aircraft hangers), and the lengths can be indefinite, since it is just a matter of adding more arched sections to lengthen the building.
This cross section shows the hybrid nature of this design. In order to gain height, the steel shell is erected on top of an earthbag stem wall, and then the earthbags continue on up over the building. The double columns of the stem wall provides thermal mass on the inside and insulation on the outside. An insulated concrete pad is poured for the shop/garage floor. The second floor joists and tie beams are essential elements of the design, since they resist deformation of the vault from all of the weight on it.
For more information about this plan, and many others, visit our sister site www.dreamgreenhomes.com, where you will find a wide range of plans for sustainable homes, greenhouses, small buildings, garages, and food storage space for sale. Dream Green Homes is a consortium of outstanding architects and designers, who have pooled their talent and expertise for your benefit.
rainscreenclip.com features a hidden siding fastener system for rainscreen installations.
postprotector.com a product designed to add years of life to wooden posts.
Old House Web has compliled lots of articles about refurbishing old houses ecologically.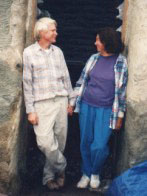 For Email contact go to About Us
Established in 2001, GreenHomeBuilding.com is primarily a labor of love. Kelly, and the GreenHomeBuilding team of experts, have answered thousands of questions for readers over the years, and we continue to publish up-to-date information about increasingly important sustainable architecture. If you feel moved to assist us in this work, your kind donation would be much appreciated; this can be easily done through our PayPal account:
Custom Search
Disclaimer Of Liability And Warranty
I specifically disclaim any warranty, either expressed or implied, concerning the information on these pages. Neither I nor any of the advisor/consultants associated with this site will have liability for loss, damage, or injury, resulting from the use of any information found on this, or any other page at this site. Kelly Hart, Hartworks LLC.