.
Workshops and Events
Listed Chronologically
calearth.org has many superadobe workshops scheduled for 2022, listed at this link.
A Bio-Architecture Primer with Scott Howard
Summer/Fall 2022
Four weekends, 3 online and 1 in person
Are you looking to build a natural structure in the near future? Consider joining Scott Howard at earthenhand.com for the Bioarchitecture Primer educational course! It is intended to prepare owner-builders to design radically efficient and beautiful structures that combine natural building and bioarchitecture (architecture that supports your life force energy). This will be a fun blend of design process and hands-on learning to prepare you to create your dream structure. Here's what you will learn: 1) Drawing, model making, and mock ups to develop your design concept. 2) Planning, and budgeting for a natural structure. 3) How sacred geometry and natural materials measurably affect the building's occupants. 4) How to source and process all the necessary materials for an all-natural structure. 5) How to position your building on the land in accordance with the forces at each locale. 6) The breadth of natural building methodologies available to you. 7) The historical uses of natural building materials around the world.
This course will give you the basics of designing with Cob, Rammed Earth, Earthbag, Straw/clay, Hempcrete, Timber-frame, Straw bales, Arches, Domes, Vaults, Passive solar, and more. The Bioarchitecture Primer class group will give you the opportunity to meet like minded people and network, sharing your designs as they take shape. The course will take place over seven (7) days during 2022 that our group will select collectively. Sessions will be recorded for future reference. The course will include in person classroom learning with hands-on training using 1/3 scale model cob buildings, as well as online classroom sessions. Building in miniature allows us to condense the learning process and achieve whole structures during the workshop. The models will also be used as play houses for kids!
Also included in the Bioarchitecture Primer is a two hour individual consulting session with Scott. These consultations about your specific design will help you hone in on the details of your vision and plan. Seven days of training plus 1-on-1 design assistance will give you the skills to move forward with your vision. Pricing for the Bioarchitecture Primer is a sliding scale to accommodate different income levels. (1000 - 1900 USD per person; BTC accepted.) Email Scott today to begin your registration. 7 students maximum per class.
See earthenhand.com for more information.

Rammed Earth Wall Building Workshop
October 3 - 8
Nakusp, BC. Canada
Learn to build high quality insulated rammed earth walls like a pro. You will learn:
Foundation construction
Material Selection
Mix quality control
Forming
Installation of electrical boxes and conduits
Wall and sample testing
Curing & sealing walls
Taught by Max Stadyk, an experienced RE builder with online support from Clifton Schooley ,another experienced rammed earth builder and designer.
For more information see www.rammedearth.info
Contact us by email to get on the list. Be sure to leave your phone # and the best time to reach you.
International Hemp Building Synmposium
October 11 - 12
Lacapelle-Marival, France
The 10th International Hemp Building Symposium is a fantastic opportunity to see a new concept in Hemp processing from symposium host Hemp-Act for creating both building materials and textile quality fibres. At the same location witness hempcrete spraying machines at work in this rare occasion where several machines from across Europe will be in use.
You can find out more at internationalhempbuilding.org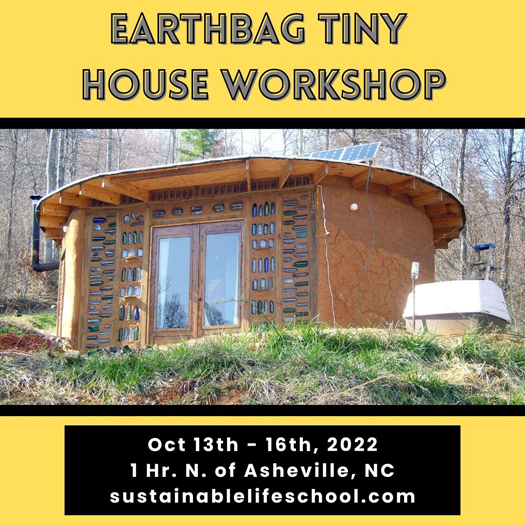 American Bamboo Society Annual Conference
October 21 - 23
Sebastian, FL
Discovering the depths of natural diversity: Explore the many varieties and uses of bamboos
See www.eventbrite.com for more information.