.
Bulletin Board
Click this link to Contact Us for placing items on the Bulletin Board.
Announcements
More than 10 years ago I decided to buy land so I can build a sustainable home with a green roof, a lot of gardens, greenhouse. I finally bought the land and it has a house on it right now. Since the beginning I wanted to renovate the house with cob and other earth materials. The house has a large space that can be restored and transformed into a massive greenhouse with a green roof. Tthere's a lot of water on the property. It is like a paradise for natural plants to grow and create like a fairy landscape. There are lots of birds, monarch butterflies, frogs, and all kinds of natural life. Three years have passed since I bought it. Please help me build something beautiful to honor this place with the right materials, or put me in the right direction to find a wonderful team of people who would like to embark in this project that I call the garden. Mia Paredes, Tgemma555 AT gmail.com phone 845-649-8444
6/21
Needing twelve to fifteen semi loads of tire bales for wind breaks please call me at (970) 397-1754 Thanks. Whittany Foster
3/21
When it became clear that I was going to have a lot of free time due to COVID, I refused to loose productivity binge watching Netflix. I'm building the Owen Geiger Solar Pit house which will be earthbermed on 3 sides. Even though construction isn't my area of expertise, I hope to inspire some. If anyone is interested in following my how-to's, they can subscribe to my blog: https://www.subscribestar.com/red-hen-green-house
7/20
I was wondering if anyone was interest in more radical solutions to the housing crisis. Perhaps of building a walkable community of a few hundred people where we build adobe homes. The main method of transportation would be walking and bicycling (healthier cleaner and cheaper than driving). We would build homes one by one. There are a few counties that have more relaxed building laws like Eureka County, Nevada. This isnt even radical it is literally traditional in the sense that the community itself builds homes businesses churches etc and not 3rd party large developers. I truly think this is the solution economically health wise and environmentally. If anyone is interested and wants to create a group of like minded people please email calebrgallegosATgmail.com and I will give you my number. I am based in Southern California. Thank you and I hope we can grow a self sustaining community that prioritizes walking and bicycling rather than endless cars and highways and sprawl. Caleb G
6/20
I am a single mother who chooses to pursue my home building dream in Mexico instead of the US. I can afford to be a fully emmersed mom this way. Since dedication to using the resourses under my feet to build my house is a priority, I believe adobe or earth bags is my best choice. I have been researching natural building for over a decade, but I am not a builder and want a strong, healthy, and safe home. A beehive shape is what feels and seems the best because of strength in an earthquake. I am reaching out to you to inquire if you are willing to use my home as a demo, class, or test site. I have one acre and lots of red dirt. There is an existing functional adobe pila wall here already so I know it has integrity for building use.
Elizabeth Belló Author, Soloist 52-646-238-4380
abalancedsoleATlive.com
5/20
hello….I am a 70 y.o. man who is sick and tired of working ( I have been at it since I was 17). I don't have a pension so must try to live on SS and a PT job. I am not making it in expensive NY ( Duchess County). My rent increases each yr tho I am in a senior apartment complex. I am not poor enough to get any assistance. I thought of building a SMALL energy efficient house to get rid of 1) rent and 2) Central Hudson utilities…one of the most costly energy Cos., in the usa. After much reading I have decided upon a house close to passive standards to save on energy that is OFF THE GRID using solar PV…I like the idea of building with pre-built SIPS but do not want foam insulation prefer cellulose…straw…wood or something natural….not foam…I don't need a big house just room enough for the three of us me my wife and 35 yo son…thats 3 br and two baths…If there are any architects, builders designers who can work with me to put together an affordable home pls contact me. I am not alone. One million people left NY state in 2017…or 2018 ( you can Google this)…because its just too damn expensive to live in NY unless you are making BIG money or have a pension…I am sure YOUR IDEA can be used by THOUSANDS of others like me…so I can be an investment for you…IF interested in helping pls email me at barbuto AT optonline.net….thanks….anthony barbuto..poughkeepsie NY 12601
3/20
Television Opportunities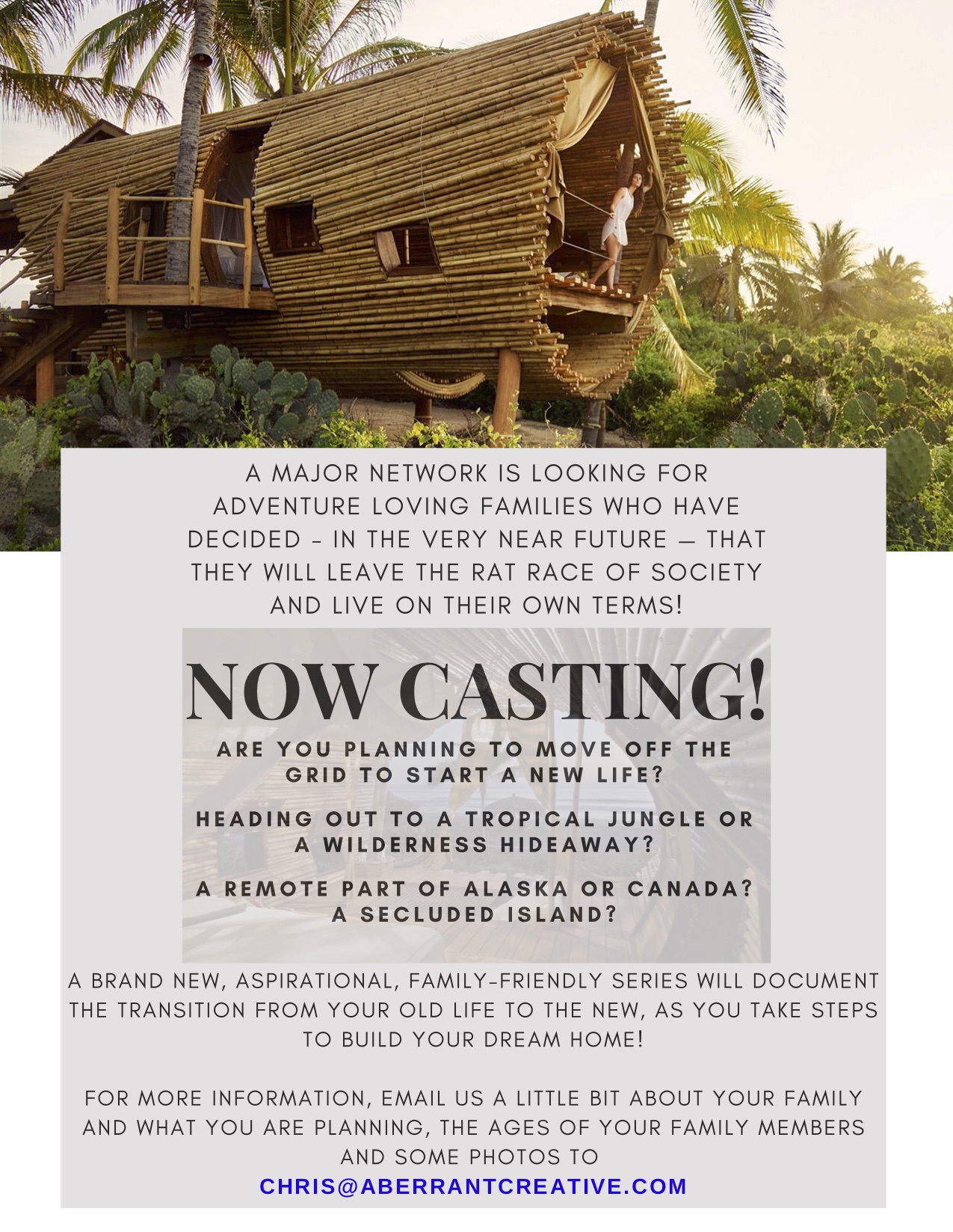 7/19
We're casting ONE MORE EPISODE for our 4th season of DIY's "Building Off the Grid!" We're looking throughout the United States for folks who will soon start to build an off grid home and plan to complete the build by end of 2019. We cannot consider builds that are already well underway. If you're selected for the show, you will receive compensation of up to $10k upon completion of building and filming, in addition to a $1k appearance fee for each person who appears on-camera.
**Please note, in order to be considered for the show, the home must primarily be built on the land where it will ultimately exist (as opposed to being 100% built in a warehouse and then transported to the land). Homes must also be at least 500 square feet**
Please email melittlefieldATwarmsprings.tv or call Megan Littlefield @ 720-722-2397 if interested. I will be happy to answer all questions and fill you in on all the show details. Here is a sneak peek link to the show: http://www.diynetwork.com/shows/building-off-the-grid

6/19
My name is Troy Schreiber, I'm the Development Manager with the television production company, Lucky Dog Films. We've produced several episodes of the Discovery Channel series 'Building Off The Grid' and are currently seeking upcoming off-grid builds to feature on this series. 
We're looking for projects that are Residential, Off the Grid, and Will be complete by December 2019
Contact Troy AT Luckydogfilms.com, O: 240.670.8496, C: 636.579.9994, F: 301.368.2193
6/19
Education
Help Available
I am an architect with a specialization in regeneration of waste spaces into designed landscaped areas. I am an Accredited & Certified Green Building Professional. I am also an Educator for Community development and have extended my expertise through outreach programs on National and international platforms. My managerial and listening skills are my major forte.  I have gained experience in social media marketing. I am confident I would be a valuable addition to your team through documentation, research as a Sustainable design expert in the field of Architecture and Design with my core areas being community development, green building implementations in rural and urban context. 
Contact Nahida Shaikh at ar.nahidaabdulla AT gmail.com
9/22

I AM CONSTRUCTION WORKER FROM CROATIA. 25. PLANTBASED. I WANNA JOIN NICE CONSTRUCTION TEAM. BUILD IN NATURAL AND SUSTAINABLE IS WHAT I AM LOOKING FOR. I WOULD LOVE TO JOIN THE TEAM AND DEDICATE MY LIFE TO NATURAL BUILDINGS... PLEASE CONTACT ME SO WE CAN TALK MORE ABOUT IT. DENIS.LESNJAK... lesnjak.denisATgmail.com
4/21
I am a sandbag house builder.I have built 8 sandbag houses over the past 7 years. If any one needs a sandbag house builder let me know. (I live in Charlotte , NC)
Hurley hagvaan AT gmail.com
6/20
My name is Peter. I'm currently searching around for a natural builder that is willing to take on a full-time apprentice for a full project or longterm period of time. I have 1.5 years aggregate experience natural building and woodworking. I have experience with waddle and daub, cob, adobe/straw bricks, earthen floors, plastering, and some bamboo and timber framing. I am past the workshop stage and really looking for something full-time with a master builder that will take my skills and confidence to the next level. 
I lived in community for over a year in Costa Rica and completed a sustainable-living apprenticeship at Rancho Mastatal (http://ranchomastatal.com).  Myself and a core group of friends are working on starting a land-based farm project in about a two-year timeframe. The members of my core team are well accomplished in agroforestry and sustainable agriculture realms, and I feel that my benefit to the group will be in the building realm. That is where I have naturally gravitated in my past permaculture/sustainable living programs. My goal is to reach the point where I can confidently design and lead builds from start to finish. 
I am open to considering different arrangements for structuring an apprenticeship role (full work/trade, etc). I am flexible on living arrangements and maintain a minimalist mindset. I have savings from past corporate life and am basically looking to cut my expenses to a minimum while furthering my building skills to a maximum. I believe I can bring value to a lead builder in an apprentice role, and seek to trade that value for additional experience and knowledge. I have no problem doing "grunt" tasks. I really enjoy physical work and the feeling of physical exhaustion at the end of a hard day. 
Maybe a few other things about me… I am 32 years old. I majored in Economics at Johns Hopkins University. I have made a living in healthcare software implementation and also as a professional poker player for several years. I spent all of 2017 in an apprenticeship role at Rancho Mastatal in Costa Rica. I have also participated in many other workshops and work/trade arrangements over the years. I am well past the party stage of my life. I tend my garden and do yoga in my free time. I prefer small group discussion and tend to skew introvert. I'm naturally a macro thinker and am increasingly pessimistic about the fragility and unsustainability of current global systems. I think it's prudent to prepare for a more localized and low-energy/low-complexity future. I can be contacted at peterhgiordano AT gmail.com
4/20
What I would like to do is bring my field experience to the home owner at his site and build for the owner, teach the owner how to build, and work with the owner building his home. I am will to travel and enjoy it. I have built in Rhode Island, Nevada, Arizona, and Florida. If need be I have a construction trailer I could bring to the job site.
I prefer  to act as the owner's project manager as this can save the owner a large sum of money. I can draft the plans, get the project though the building permit process, help obtain the subcontractors. I usually design to the customers needs. I have built both commercial and residential. I have references and photos of some of the work I have completed.
Contact Richard Sweeten: ricksweetenAThotmail.com
1/18
Employment
I'm looking for someone who has knowledge of and a background in sustainable earthbag building, and help me construct a 12-foot earthbag foundation for a yurt. You can see an example here: https://www.instructables.com/Insulated-Earthbag-Foundations-for-Yurts. MUST have experience in earthbag building. Please email if interested. macy.ring AT gmail.com
5/21
For Sale or Free
We have been looking into off-the-grid building and building with recycled materials when we found out about building with tires. We have an events business which we have several hundred, possibly 2000 tires, that we had used for some barriers. We no longer need the tires and would like to find a good "home" for them. (Pun intended). We are interested in a small purchase price, trade for services or product or to donate to a charity build or a veteran. Tires are located in Victoria, Texas. Centrally located between Austin, San Antonio, Houston, Corpus Christi and College Station.Please let me know possibilities. Best, Shannon Matus shannon@eventsprojects.com 281-802-9863
12/20
Our company uses scoria to create an environmentally safe Traction Agent for winter time. We have over 500k lbs of scoria and are looking to unload this bulk material at aN extremely discounted price. We need the warehouse space for other endevours. We would be willing to sell @ $45.00 per ton or price match whatever else anyone would bring to the table. Also, if anyone is interested we could discuss the freight situation after that. Our scoria ranges from 3/4" to 2" in size We also have an abundance of pre-packaged 45lb bags that contain scoria and 2 different types of lime chips. We are located in Pennsylvania and our warehouse is in East Greenville. Contact Jared Gibson, Director of Operations, Gaia Enterprises Inc. Phone: 215-355-7841 ext. 109 jared AT gaiausa.com
6/20
I recently purchased a home in Valley WA which is an hour North of Spokane, WA. It sits on 27 acres and the sellers left behind stacks of used tires. I would estimate 1500-3000 tires of all sizes. Even some of those huge crossfit tires.. Its important that I find a new home for these tires as I need them cleared off the property for the new buyers. If you think a stock pile of free tires would be of benefit to you or any other organization you know of please contact me at your earliest convenience! Dont let the distance be an issue. The cost for me to discard these or even sell them to a recycler is very costly so popping them in a huge truck and driving them to the desired location is something I'm sure we can work out. Thanks again and I look forward to hearing from you…. Matt 509-218-6065
12/19
I have about 300 8 x 12 x 16" Faswall ICFs for sale. contact: kmatesz AT gmail.com
4/19
We have the attached for sale. A Sandbagger 2 Chute machine (Some bags come with it along with a Portable Bag closer) ,  We also have a Stucco sprayer, Mortar Sprayer, Epoxy grout pump, Fire Proofing sprayer (used for strawbale and earthbags) The Sandbagger machine we are wanting $3500 and the Stucco Sprayer we are wanting $4500. See: https://www.youtube.com/watch?v=6XdG2yJ3Mx8, https://www.youtube.com/watch?v=I-C_V87i8YE, https://www.youtube.com/watch?v=SrrzxBtjHeE
Contact Environmental Energy Consultants (Dan Payne) enviroec AT gmail.com
1/19
Finding Property
9-11 responder mom here. Own 5 acres f&c across the street from 6060 so sharon church road, loganville, GA. Please look at an aerial. poor now otherwise. Zoned residential, could be changed I reckon. Objective: Get out of NYC apt. Son is wrapping up HS so I can go now. Also not up to another hurricane. Possible objective: Turn those acres into a 3 150' lots for a small community or play with local government later for more homes. If you zoom out on aerial you'll see a lot of empty subdivisions have been carved out of the area. 99% pine. One idea is remove trees across back so each lot, if feasible go this way, for pasture and agriculture. Upside to location is county water and all that. Close to Atlanta and Athens. So attractive for nearby markets and no need for SUV's. So I have a grander vision but I'm ill now and not young and just want a house on my property already. It would be great for my son. I think he'd really get into it. 9-11, like I said, wiped me out. My DIY days are over except maybe for jarring and table stuff. I mention the community idea in case you know anybody. I'm thinking gardens/farm/car share/common toolshed; goats; I'm open. Stretch the Zoning... Feel free to share. Primarily, I need a house. I'm looking for an inexpensive to build plan, green of course, as elegant and as cheap as possible within Universal Residential Code whatever that is. Cynthia: fleamistress AT gmail.com
5/21
We have five acres (already subdivided into four lots) which would be suitable for an earth bermed home  located 50 miles west of Albany, NY for sale. See: http://www.pasttimespresent.com/Redshed
John Haigis
Email: johnghd AT yahoo.com
6/18

greenhomessd.com specializes in helping to find and sell green properties.