The books shown below are arranged according to when they were published, with the most recent ones at the top. If you click on one of the images you will be taken to a page at Amazon.com where you can find out more about the book. If you end up buying one of them, greenhomebuilding.com will receive a small commission that will help cover the cost of maintaining this website. Thanks for your patronage.
Informative Links
General
buildingscience.com has a searchable database of articles about building physics, systems design concepts, and awareness of sustainability.

oikos.com green building source for news, classifieds, library, etc.
sustainablebuild.co.uk This U.K. website features a vast collection of articles about most aspects of sustainable building.
alternativebuilder.com has assembled an increasing array of information related to sustainable architecture.
dongardner.com has some good tips on various considerations for green building.
grisb.org The Geiger Research Institue of Sustainable Building features workshops, a strawbale certification program, articles and publications on many aspects of sustainable building, house plans (including a free emergency shelter plan), and links to much more information.
buildium.com provides an informative green building guide.
quiethut.com A guide to green building with lots of pertinent links.
Organizations
aecb.net Association for Environment Conscious Building (from the UK).
nahbgreen.org describes the National Association of Home Builders National Green Building Program.
eeba.org Energy & Environmental Building Association
greenbuildingpages.com has assembled a list of ten organizations that are at the forefront of promoting green building.
Atual Homes
Homes Across America profiles resource efficient and high performance home building in the U.S. You can search for homes around the country and find out about the "green" technologies and techniques used to build them. Examples include everything from "off the grid" homes to high performance production models to multi-family apartments. My Earthbag/Papercrete home is listed under Colorado. You can submit your own resource efficient home for their consideration.
endeavourcentre.org "Canada's greenest home" can be explored here.
Education
naturalhomes.org lists workshops conducted around the world relating to all aspects of natural building.
sustainablesources.com features a calendar of events related to sustainable living which can be updated by visitors online.
totalmortgage.com has assembled a guide for buying a green home.
custommade.com This infographic explians in some detail the value of the LEED program for evaluating green buildings.
circularecology.com offers a downloadable database of embodied energy and carbon footprint data for various building materials.
Incentives
dsireusa.org The Database of State Incentives for Renewable Energy (DSIRE) is a comprehensive source of information on state, local, utility, and selected federal incentives that promote renewable energy.
Discussion
construction.com McGraw Hill Construction Community Forum has many threads related to sustainable architecture.
Media
ecotecture.com free online journal of ecological design.
smart-homeowner.com features innovative solutions for creating efficient, healthy, eco-friendly homes and has many articles and resources available at the on-line version of their magazine.
newvillage.net semi-annual journal on building sustainable cultures.
buildinggreen.com informative site for Environmental Building News.
motherearthnews.com Mother Earth News has provided solid information on many topics related to sustainable living for several decades, and now many of these articles are available on-line.
hopedance.org magazine for finding pathways to sustainable living and positive solutions.
newbuilder.co.uk publishes Building for a Future magazine, with many issues available on-line.
homebuilding.co.uk The A-Z of Green Homes from the UK's Homebuilding & Renovating Magazine.
Blogs
constructionmanagementdegree.com lists their top 50 green construction blogs, which includes the blog associated with this site.
greenbuildingelements.com is a blog-style magazine featuring articles by various professionals related to all aspects of sustainable design.
greengeezer.com is a blog with this motto: "Green homes for baby boomers: Because there's still time to do it right."
thenauhaus.com blog-style updates to the book Building Green provide some excellent information about many aspects of building green.
Design Philosophy
mcdonough.com William McDonough's site features articles by and about him and his radical ideas for transforming design into an art of creating no waste.
inika.com this Indian firm combines many aspects of sustainable architecture in their designs.
Online Tools
builtgreen.org features an online form to calculate a score for green buildings based on their system of evaluation.
epa.gov/sustainability this tool allows people to search for specific sustainable resources from the government.
Disaster Relief
rebuildingcommunity.org devoted to sustainable disaster relief around the world.
Remodeling
intlistings.com This article entitled "Greenify Your Home: 100 Tips and Resources to Make Your House Environmentally Friendly" offers substantial tips for moving forward with making your home more sustainable.
lowimpactliving.com tips for undertaking an eco-friendly remodel.
norstoneusa.com features this detailed article about sustainable remodeling.
Directories
eco-living.net site with many annotated links.
energyconservationinfo.org has numerous links with descriptions about alternative construction and energy.

greenbuilder.com extensive site of sustainable sources.
greenbuildingpages.com has an expanding database related to sustainable design, products and resources.
sustainabilitystore.com is a directory of socially and environmentally responsible products and services.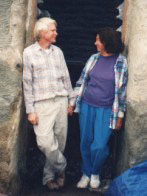 For Email contact go to About Us
Established in 2001, GreenHomeBuilding.com is primarily a labor of love. Kelly, and the GreenHomeBuilding team of experts, have answered thousands of questions for readers over the years, and we continue to publish up-to-date information about increasingly important sustainable architecture. If you feel moved to assist us in this work, your kind donation would be much appreciated; this can be easily done through our PayPal account:
Custom Search
Disclaimer Of Liability And Warranty
I specifically disclaim any warranty, either expressed or implied, concerning the information on these pages. Neither I nor any of the advisor/consultants associated with this site will have liability for loss, damage, or injury, resulting from the use of any information found on this, or any other page at this site. Kelly Hart, Hartworks LLC.