.
Bulletin Board
Announcements
I finally own some raw land as I recover from devastating losses, including homelessness, a fractured neck (c7), loss of business, relationships, and other dreaded realities. Please help me create a shelter on my lots so I can finally have a place to live on my own. The lots are located in Elizabeth, PA 15037. Thanks for any help. I can send you a resume if you like. I would like to stabilize myself so I can do some good for others! Mark Homa 215-603-6280..... markjhomaATgmail.com
8/17
We are OM Shanti Eco-Farm Retreat, an eco village promoting sustainable, holistic and harmonious living. One of our objectives is to feature natural building methods of various kinds. I was wondering whether you'd be interested in featuring some of your natural building methods on-site. Since we have a large acreage, we'd be flexible to start with 3 different types of homes or so, depending on the budget - such as earthbag, superadobe, treehouse, possibly earthship, etc. At this time, we can offer camping grounds and possibly an RV. There are two nice hotels in walking distance. Lake Placid, FL is a quaint yet touristy area. Let me know if you're interested and when you're free. Also, feel free to introduce yourselves. We are available to Skype, if you'd like.

Tatiana
larochetAThotmail.com
404-606-2896
www.omshantifarm.org
1/16
II am looking for a qualified Superadobe builder or team who has a serious interest in helping me turn project into a home I can move into. In order to get an occupancy permit from the Las Vegas Building Department, I must have a kitchen, a full bathroom, and 120 additional square feet of living space. In addition, I must have all exteriors, a 2-4 foot tall front fence, and final grading finished. I would like to utilize as much as I can of what has already been built. I am willing to change any of the originally designed & unproven passive systems for energy efficient conventional systems if it will be more cost effective. I am reaching out to the worldwide Superadobe community for proposals and bids to do this. I need a person or team with proven experience in managing & completing a multiple dome build with plumbing & electric.
See www.openarmsdomes.com for more infornmation.
1/16
Television Opportunities
Warm Springs Productions is currently looking for skilled off grid home builders, designers, and renovators for a new project! This "off grid expert" will appear on-camera, helping folks either build or renovate their dream off grid home. Across the country, Americans are feeling the pull to get back to basics and many are making the big jump and going off the grid. From earth-sheltered and straw bale homes to modern designs and tiny houses, individuals, couples and families want to build the homes of their dreams, while being disconnected from traditional power sources and water supplies. However, constructing a self-sufficient home is far from easy! So we are looking for off grid "gurus" to help these homeowners achieve their dream dwelling.
If you or anyone you know would be interested in this opportunity, please email Megan Littlefield: melittlefieldATwarmsprings.tv with your name and contact info and from there, I'll reach out to you with more information. Feel free to forward this email to anyone who may be interested.
6/17
We are a production company looking to cast for an Off-the-grid docu-series. You can check us out here - http://punched.tv/ We are looking for an individual or family. Specifically we are interested in a project that is completely off-the-grid. Meaning they're building in a very remote location, away from the norms of society, perhaps there is no running water nearby, no town to buy groceries - it doesn't need to be this extreme but can be in that ballpark. It must be a project thatis already planned and will start in the next month or two or is in the beginning steps and must be off-the-grid. My email is alieATpunched.tv Please contact me if interested! thank you! We need to find someone ASAP. 
4/17
I'm a casting director with Warm Springs Productions and the DIY network. The first season of the DIY's show "Building Off the Grid" was such a huge success that we're now casting a second season! We're looking all across the country for folks who will soon be building an off grid dwelling (i.e. starting within in the next few months). We cannot consider homes that are already underway. All types of structures can be considered i.e. straw bale, earthship, tiny homes, yurts, container homes, earth-sheltered, log, stick-built, or whatever else your imagination comes up with! If you're chosen for this project THERE IS GENEROUS PAY INVOLVED. Please email me at melittlefieldATwarmsprings.tv or call me @ 720-722-2397 if interested. PLEASE NOTE, IN ORDER TO BE CONSIDERED FOR THE SHOW, THE HOME MUST BE BUILT ON THE LAND WHERE IT WILL EXIST, AS OPPOSED TO BEING BUILT IN A WAREHOUSE - AND THEN TRANSPORTED TO THE LAND www.diynetwork.com
2/17

Tiny Paradise Now Casting
Does the tiny house you're building have a picture postcard worthy address? Will it have coastal curb appeal? Or scenic mountain magic? HGTV's new show, Tiny Paradise, is looking for couples, families and singles (w/sidekicks) who are building a tiny house... in a location that puts the scene in scenic! We're on the hunt for people who are just beginning or have recently begun building. The series will spotlight professional builders as well as DIYers who are customizing their 400 square feet or less homes to fit their own little piece of paradise.
To Learn more, send an email to whayesATdorseytv.com Please include your contact details, a photo of yourself and a brief summary of what you envision for your own tiny nirvana.
11/16
Education
Ionia, a macrobiotic eco-village in Alaska, has space and desire for eight dedicated volunteers to help us build the Ionia barn this Spring and Summer. We can offer free air tickets, shared space in a lovely log cabin, good knowledgable company, delicious plant based meals, bright Alaskan days and an exciting learning experience on one of the biggest modern straw/clay buildings in the world. We will also be bringing our barn crew on a monthly Alaskan excursion/adventure.
To see photos of the barn construction, which is in it's last phases, as well as Ionia, the community, see our website: www.ionia.org. And also ioniabarn.org. You don't need any money to come, just the freedom to follow your passions for learning more about natural buildings and explore life in a homesteading community. The village of Ionia has big gardens, and lots of daily happenings with plenty of children running around and four babies being born this spring. We don't use marijuana, light alcohol is usual but we keep the property sugar and animal food free. We are located a half hour from town and there are daily rides in. We are hoping to gather a vibrant cadre of people to work together daily on the barn this year and learn from each other. We have semi-experienced timber framers, masons, plumbers, carpenters, lite straw/clay builders and plasterers on site.
This year, we are applying finish plasters; installing ceiling boards and natural insulation; building two rocket mass heaters; timber framing bannisters and building big barn doors. We need a cadre of serious natural builders to join our teams, and all levels of experience are welcome. If we are compatible, we hope for a six week - 3 month commitment, beginning in May. Please contact Ann at longhouseATionia.org or 907-262-2824 if you are interested in this once in a lifetime experience!
1/17
Invitation to all volunteers interested in gaining some free earth bag building experience in creating a 10 foot diameter meditation round house that will be sunken in 3 feet in Temecula, CA 92592 after the Cal-Earth workshop during the week of September 19th to 26th. We are located 90 miles or about 2 hours away from Cal-Earth in Hesperia, CA and if you are interested in working with a sand/clay mixture instead of stabilized soil with cement, this is the opportunity to do so. Also, 18"x30" sandbags will be used most likely with the possibility of some sandbag tubing. This requires less people involved in case you want to try this method vs the Cal Earth tubing method when you build your own structures.
This will take place in a rural setting on 5 acres. Accommodations will be available in a 3 bedroom manufactured home, and depending on the number of people, there is additional room for camping or staying in an enclosed gazebo, a covered greenhouse for the outdoors type. Nights are cool and mild. All healthy meals will be provided for. And for those that really want to be under the stars, there can be camping (your own tents) on a raw, pristine 20 acre property in Aguanga, CA about 1 hour away from the house. We are 15 minutes away from the numerous wineries here and about 25 minutes from 2 large casinos, Pachanga and Pala Casinos. To help you relax and unwind, free acupuncture treatments available to all, as we are acupuncturists by profession. If interested call me, Helen, at (951) 764-2626 or email me at: maydayehATpeoplepc.com
9/16


Earth Bag Build Volunteers - Grenada's Rainforest
GARDEN OF EDEN, GRENADA

Work/Stay Volunteer - Learn how to build Hyper Adobe with Earth Bags
6-8 week : Project Start Date July 01, 2016
We are putting together a team of hardworking volunteers with a sense of humour and adventure. You will work and learn while participating in the building of an EarthBag House in Grenada's Rainforest. This is a unique opportunity to experience our genuine Caribbean lifestyle - while also learning natural building skills. You will be immersed in the island culture and way of life. Working side-by-side with the locals and other international volunteers. And - toward the end of the project - we will celebrate Grenada's Carnival, an amazing island wide fete.

Jason and Laura will share their natural building experience with like-minded volunteers. We will be using the newly developed Hyper-Adobe Earthbag technique, along with clay plasters and earthen floors. Recycled glass bottle elements will be utilized along with other salvaged materials. We hope to work with local bamboo as well. The natural building techniques you learn will give you the skills necessary to build your own Earth Bag dwelling.
The building site is the spectacular slopes of Mt. Agnus, about 4 miles straight up from our seaside residence - Garden of Eden. Garden of Eden is a Seaside B&B, consisting of the Main House - where our B&B guests are accommodated - and cottages, where volunteers are housed. The cottages have comfy king-size beds, screened windows, private verandas overlooking the sea and cooling ocean breezes. Although the cottages do not have electricity or running water, they are quite comfortable.

REQUIREMENTS : Physically fit, hardworking volunteers with a sense of humour and adventure Experience is not required, but a good work ethic and keen interest to learn is essential. Tell us about yourself and your building skills/experience too. The team is expected to work 5-6 days a week for the duration of the project. Shared housing is provided. Meals provided - breakfast and one main meal. Limited spaces available. Please send us an email : lauraingrenadaATgmail.com Tell us about yourself and your building skills/experience too. A good work ethic and keen interest to learn is essential. Experience is not required. For additional information about the Building Project see - http://www.thepoosh.org/buildproject/laura-marecheau/hyperadobe-earth-bag-round-house

To have a look at Garden of Eden B&B and the surrounding area see https://www.airbnb.com/rooms/5452050?s
6/16
Free Natural Building Internship Interviewing NOW!
Summer Semester Mount Crested Butte, Colorado: May 9th - August 5th, Foundation to Exterior Framing

Fall Semester Mount Crested Butte, Colorado: August 8th - November 4th, Interior Framing to Finish
Community Rebuilds 2016 Summer and Fall semesters will be held in the town of Mount Crested Butte! We will instruct 14 students and 2 families to build a 3-story, straw bale duplex! The project will still hold true to the CR mission of building energy efficient housing for low-income families and educating students on natural and sustainable building practices. As always, our program is free of cost to our interns and includes hands on instruction on straw bale construction and natural building. We also provide a food stipend, bulk food items and housing in exchange for the labor of our interns.
Community Rebuilds infoATcommunityrebuilds.org (435) 260-0501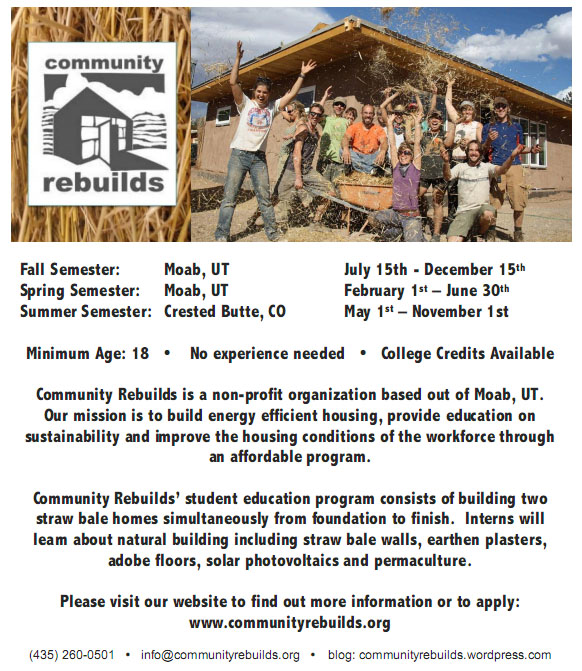 Intern Wanted at Organic Farm.
Do you want to learn to milk a goat, ferment sauerkraut, save garden seeds, slaughter a chicken, prune an orchard, mix and apply clay plaster, make cheese, harvest produce for market, install drip irrigation, make tortillas from home-grown corn, graft fruit trees, pour a foundation, use a walk-behind tractor, and cook a delicious meal in an earthen oven? Spreadwing Farm in the Capay Valley (Yolo County, California) is looking for one more intern. We are a small organic farm and homestead being developed by Cathy Suematsu, Michael G. Smith, their 4-year-old son and 2-year-old daughter. Our goal is to provide a healthy, balanced, and inspirational home environment for our family and visitors, while eventually generating enough on-farm income to meet our financial needs. A lot of our energy goes into food production and preparation and caring for our children, with farm infrastructure, permaculture and natural building projects fitting in whenever possible. We recently completed an earthen pizza oven, composting toilet, and a major expansion of our fruit orchard. Projects planned for the near future include a solar fruit dryer, a grey water system, a solar shower, and a new straw bale packing shed and walk-in cooler, starting with the restoration of a century-old water tower. We'd like to share our decades of experience with others who are excited to learn these skills. We provide amazing organic food, beautiful surroundings, a small cabin or tent site, and endless learning opportunities in exchange for about 40 hours a week of your help. Some experience is helpful, but the most important qualifications are enthusiasm, compatible personalities, and a desire to learn and to work hard. We prefer interns who can commit to between six and twelve months, but we can sometimes take people for shorter time periods. For more info please email michaelATemeraldearth.org or cathyATemeraldearth.org.
Help Available
I have always dreamed of knowing how to build with natural materials (cob and clay has been a particular interest) and I am really interested in knowing all steps involved.  I live in Portland, Oregon and would love the opportunity to build with someone in my area or fairly close by. So really the issue would be aligning schedules to be able to take part.  I so look forward to this opportunity.
Rachel Williams
rwbeloved40 AT gmail.com
2/17
My name is Jess Christensen and I am a Danish student who is studying green energy. I am looking for an internship for 3 months for free. JesschristensenskoleAThotmail.com
9/16
Hello, my name is Adam Trnka. I'm new in Denver, Colorado. I would like to dedicate my time here to creative work, gain inspiration and learn new things. I studied graphic design, but now I mainly focused on natural building, interior design and diverse creations. I mainly work with clay plaster, insulation of the house using straw bales and interior reconstruction. I would like to cooperate with you as a craftsman who enjoys physical work. I would like to meet people around natural building and become part of team as a craftsman. But I don t have tools or a car yet, so I'm grateful for any job that comes along.
tykrabeATseznam.cz
Employment
My name is Dalia Dayan and I am in my fifties. I don't have anybody who can build an earthbag house for me. I believe that this is the most reliable house in any aspect. I am looking for builders (asap) to build a medium size earthbag house following one of the architectural plans that you provide on your sites. This house is to be built around Ithaca NY. Contact: dayandaliaATyahoo.com
9/15
For Sale or Free
I have 5 used 40' shipping containers for sale 1k each you haul from Boulder, CO. Jordan Sparacio jrsparacio88ATgmail.com

3/17
Offf grid home for sale: 1715 sq ft , 4800 amp hr battery set, pro panel pitched roof, 5 acres, shared well, propane heat and wood burning stove, all modern appliances. 2bd, 2 bath with loft. 25 Vuelta Horcado, Santa Fe, NM 87506. House is listed with Southeby's, great 3-d walk through on line! 505-670-5150
7/16
I have a number of shipping containers for sale. 150 - 20' Standard units @ $1500 each 70 - 40' Standard Units @ $1600 each 600 - 40' Hi-Cube Units @ $1700 each 100 - 45' Hi-Cube Units @ 1800 each 6 - 40' Standard-Reefer Units @ $6,000 each Quantity discounts available. All units will be Wind and Water Tight Cargo Worthy Boxes and are available now for pick-up. Sincerely, Matthew Einsohn, Cell Phone Number: 214-930-3119 mseinsohnATyahoo.com
5/16
Finding Property