.
Bulletin Board
Click this link to Contact Us for placing items on the Bulletin Board.
Announcements
My name is Alex and myself and my young family sold up last year in the UK and started a new life in Nicaragua. We have gone into partnership with a local family and are currently building our house using bamboo, wood and Adobe construction on their land and we are about to embark on a project to create a learning centre that will be used to teach an aray of skills but our main focus will be on natural building techniques, natural energy technologies, permaculture, natural plant medicine and tinctures. We want to be able to offer this service free of charge to the local community and to do this we are also creating a small ecolodge, accommodation and a restaurant, this in turn will fund the learning centre. We came here to live off the land and live simply. To enable us to push this vision forward we are creating a 'Go fund me' project.
5/18
Television Opportunities
DIY NETWORK - BUILDING OFF THE GRID - CASTING NOTICE
We're looking throughout the United States for folks who will soon start to build an off grid home and plan to complete the build before November of 2019. We cannot consider builds that are already well underway. If you are selected for the show, you will receive compensation of up to $10k upon completion of filming and building. Please note, in order to be considered for the show, the home must primarily be built on rural land where it will ultimately exist (as opposed to being 100% built in a warehouse and then transported to the land)
Please email melittlefieldATwarmsprings.tv or call Megan Littlefield @ 720-722-2397 if interested. I will be happy to answer all questions and fill you in on all the show details. Here is a sneak peek link to the show: http://www.diynetwork.com/shows/building-off-the-grid

6/19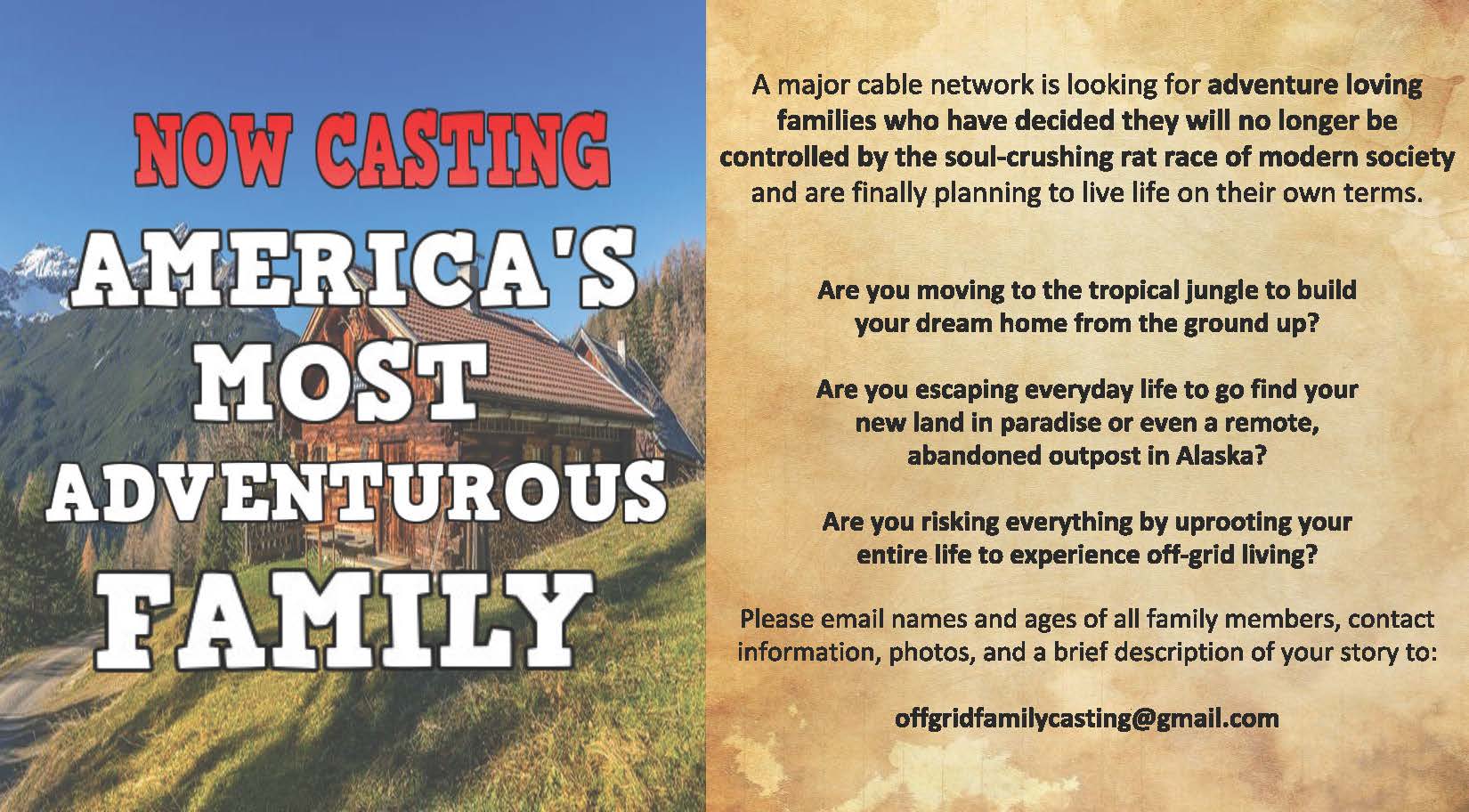 5/19
Education
Help Available
What I would like to do is bring my field experience to the home owner at his site and build for the owner, teach the owner how to build, and work with the owner building his home. I am will to travel and enjoy it. I have built in Rhode Island, Nevada, Arizona, and Florida. If need be I have a construction trailer I could bring to the job site.
I prefer  to act as the owner's project manager as this can save the owner a large sum of money. I can draft the plans, get the project though the building permit process, help obtain the subcontractors. I usually design to the customers needs. I have built both commercial and residential. I have references and photos of some of the work I have completed.
Contact Richard Sweeten: ricksweetenAThotmail.com
1/18
Employment
For Sale or Free
I have about 300 8 x 12 x 16" Faswall ICFs for sale. contact: kmatesz AT gmail.com
4/19
I have for sale: two 1000 ft. rolls of  continuous polypropylene tube.  One of which is 18" and the other is 24".  Located in Mesa AZ, 85209.  I'm Willing to drive up to 2 hours away from Mesa to deliver it.  Otherwise shipping is extra. Selling them for $350 each.  With a "bonus" small spool of 24" polypropylene tube that is between 100 and 300 ft long. Mark Waddington snarkalotATgmail.com
2/19
We have the attached for sale. A Sandbagger 2 Chute machine (Some bags come with it along with a Portable Bag closer) ,  We also have a Stucco sprayer, Mortar Sprayer, Epoxy grout pump, Fire Proofing sprayer (used for strawbale and earthbags) The Sandbagger machine we are wanting $3500 and the Stucco Sprayer we are wanting $4500. See: https://www.youtube.com/watch?v=6XdG2yJ3Mx8, https://www.youtube.com/watch?v=I-C_V87i8YE, https://www.youtube.com/watch?v=SrrzxBtjHeE
Contact Environmental Energy Consultants (Dan Payne) enviroec AT gmail.com
1/19
Finding Property
We have five acres (already subdivided into four lots) which would be suitable for an earth bermed home  located 50 miles west of Albany, NY for sale. See: http://www.pasttimespresent.com/Redshed
John Haigis
Email: johnghd AT yahoo.com
6/18