Plans
SunEarth House
Paul Shippee, Designer

This earth-covered, passive solar, 1863 sq ft house achieved the very best performance in a HUD-sponsored energy survey when it was first built in the late 1970's. For three years after the house was built, it was computer-monitored, and according to the National Solar Data Network, the SunEarth house out-performed hundreds of passive solar houses in the country. The house was designed, built, and marketed by Colorado Sunworks. The furnace was put to rest during its first winter because the pilot light was wasting natural gas. All of the space heating demand is supplied by the passive solar system.
The heating system is a direct gain, passive solar system and drum wall. The south side exposes 300 square feet of glass windows. The windows are two panes of insulated glass that run floor to roof. Behind the windows are 54 large, vertically stacked barrels. Sunlight directly warms these 55-gallon oil drums that are painted with a flat black finish and filled with water. During the day, the water and interior concrete walls inside the house absorb the sun's heat. The heat is released slowly after the sun sets.
At night, when temperatures begin to drop, a blower pushes polystyrene beads between the two panes of glass, providing insulation to keep the daytime heat inside the home. On winter nights, this moveable Beadwall insulation converts the large window areas to R20 heat loss barrier. Six vertical skylights are arranged on the north side of the earth roof. Maximum solar energy takes place during the winter, and minimum solar energy occurs in the summer.
Winter Mode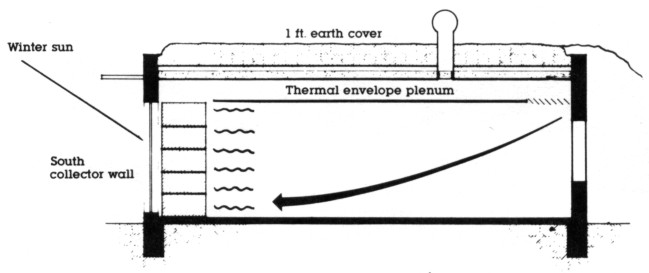 Stored solar heat is released from the water containers as needed. Heat flows naturally by low temperature radiation and by warm air convection to the north side of the house, thus balancing comfort zones throughout the living space.
Summer Mode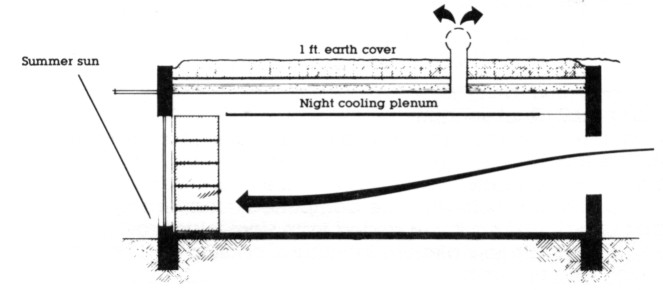 Interior thermal mass is cooled down on summer nights by providing a natural air now path. Daily heat gains aree rejected by this method through turbine roof ventilators. The cooled massive house is then closed up on hot summer days for comfortable living.
For more information about this plan, and many others, visit our sister site www.dreamgreenhomes.com, where you will find a wide range of plans for sustainable homes, greenhouses, small buildings, garages, and food storage space for sale. Dream Green Homes is a consortium of outstanding architects and designers, who have pooled their talent and expertise for your benefit.
Informative Links
General
malcolmwells.com Malcolm Wells, the grandfather of earthsheltering, has a wonderful site about his work.
earth-house.com wide ranging site mostly about earth sheltering.
undergroundhousing.com This links to information about Mike's book and videos, presented by the publisher.
Green Roofs
greenroofs.com very informative site featuring a variety of concepts for growing roofs.

schundler.com/greenroofs a discussion with photos and links about various green roof applications utilizing perlite.
bestcollegesonline.com lists and describes 20 colleges that have ioncorporated green roofs into their buildings.
hopesandfears.com an illustrated history of green roofs.
Concepts
earthlink.net a rambling exploration of the possibilities of burying culverts or quonsets for homes.
americansheltertechnologies.com manufactures steel arched buildings that can be placed underground.
radio.weblogs.com pictures and description of various underground building concepts.
undergroundhousing.com links to information about Mike Oehler's book and videos, presented by the publisher.
greenmagichomes.com makes composit components that connect to create vaults that can be buried.
Specific Earthworks
solterra.info The Semrock's vision and ongoing constrcution of their earthsheltered home.
ourcoolhouse showcases a couples' exploration of earthberming.
williamlishman.com a description with photos of a unique underground home.
marant1946.blogspot.com this blog is very informative about the construction of this Texas earth-sheltered home.
formworksbuilding.com shows interior and exterior images of several of their underground or bermed ferrocement buildings.
trendir.com here is wonderful example of underground architecture in Switzerland.
beingsomewhere.net a lovely example of using local natural materials to build a comfortable and beautiful home that is recessed into a hill.
paradomehomes.com plans and photos of a two-story, thin-shell concrete underground dome home.
Passive Annual Heat Storage
norishouse.com describes how a PAHS house can keep an underground house comfortable year round with no additional heat source.
earthshelters has information and plans for a passive solar heat storage (PAHS) system and is related to the above link.
diygreenbuildingwithjerry.blogspot.com a blog about building a year-round passive solar (traditional winter-centric solar and Annualized GeoSolar in the summer) house.
Geothermal
Seabird Island Project shows unique design for the solar heating of water and space through warm air collection and geothermal heat tubes.
Chart of Underground Temperatures
This Chart shows underground temperatures in the United States and around the world.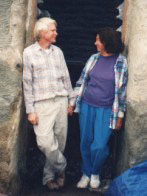 For Email contact go to About Us
Established in 2001, GreenHomeBuilding.com is primarily a labor of love. Kelly, and the GreenHomeBuilding team of experts, have answered thousands of questions for readers over the years, and we continue to publish up-to-date information about increasingly important sustainable architecture. If you feel moved to assist us in this work, your kind donation would be much appreciated; this can be easily done through our PayPal account:
Custom Search
Disclaimer Of Liability And Warranty
I specifically disclaim any warranty, either expressed or implied, concerning the information on these pages. Neither I nor any of the advisor/consultants associated with this site will have liability for loss, damage, or injury, resulting from the use of any information found on this, or any other page at this site. Kelly Hart, Hartworks LLC.