.
Joinery and Shaping Bamboo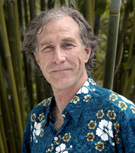 Jo Scheer has been deeply involved in working with bamboo for about two decades, having lived in Rincon, Puerto Rico, where he built a home for his family with mainly bamboo components. He has been designing, building, and marketing a wide range of beautiful bamboo creations. Jo has recently authored a book, How to Build with Bamboo, that outlines some 30 bamboo projects that elegantly demonstrate the beauty and functionality of bamboo. One of the more inventive of his designs is what he calls a "hooch", which is a small elevated abode made almost entirely of bamboo. The grounded footprint of this inverted pyramidal structure is roughly one square foot, since the entire weight is born on a small pedestal, while the room above is stabilized with guy wires. This hooch has been featured on TV and at conferences. With a background in science, Jo has been a teacher, technician, inventor, builder, contractor, sailor, agriculturist and artist, and thus is eminently qualified to field your questions about building or living with bamboo.
Questions and Answers
Q: Can you explain what are the main ways of joining bamboo for building?
A: You can join bamboo several ways. Generally, the simpler the better. Always remember that bamboo is hollow, and any compression can compromise its integrity.
Through bolts, with wood or other inserts (to prevent crushing) works well. The best method is to fill the voids with cement, let cure, and tighten down. If the stress on the joint is not great, the through bolt alone can work with thick walled, timber bamboo.
Also, mortice and tenon joinery works with bamboo poles of complimentary diameters (the smaller diameter fits into the void diameter of the second). A bamboo branch or other insert keeps the joint together. This is not a rigid, strong joint, nor are others mentioned here. The best strategy for bamboo joinery is to triangulate. Triangles relieve the stress on a joint tremendously, and is just good building.
Wrapping bamboo with galvanized wire on the ends helps prevent the ends from splitting, and greatly increases strength and durability.
Birds-mouth joinery also is done- much work and skill is needed to pull this off- but it looks nice. There are several variations of all techniques mentioned here.
Q: I am making a walking cane and wonder how to bend the handle?

A: You need, fresh, suitable bamboo (diameter, age, species). Green bamboo is bendable; brown, cured, dead bamboo is not. Take a propane torch and gradually heat up the area to be bent. This is the same technique for bending PVC pipe. Gradual, all sides, large area is heated with the torch, being careful not to scorch it.When the bamboo becomes pliable, you will know it- it bends quite easily. Do not force it, rather, heat it up some more. Slightly overbend to the desired configuration as there will be some spring back (judgement call). Let it cool, and you got it.
Q: I wish to build bamboo scaffolding, such as is used in Asia, to use for exterior painting of my home. I need to know what type of bamboo to get for this purpose. I know there are some bamboo suppliers in southern California, but don't know what type of bamboo to order.
A: I think any thick walled bamboo would do, but the key is the binding. Scaffold binder in Asia go through a three year apprenticeship to make sure they know how to tie bamboo and it will not come loose.