The books shown below are arranged according to when they were published, with the most recent ones at the top. If you click on one of the images you will be taken to a page at Amazon.com where you can find out more about the book. If you end up buying one of them, greenhomebuilding.com will receive a small commission that will help cover the cost of maintaining this website. Thanks for your patronage.
Plans
Eco Nest 1200
Touson Saryon, Designer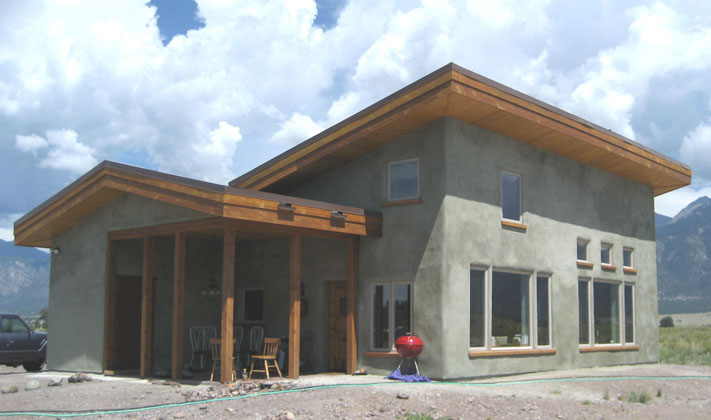 This 1434 sf home was designed specifically for an off grid building site. It's floorplan allows all spaces to be easily heated by the solar gain or by the woodstove at night. The main bedroom has its own bathroom and there is a cozy sleeping loft above the dining area for guests. The screened porch expands the living area to encompass the outdoors and the storage room will hold the bikes and garden tools. A 'living roof' completes the greening of this unique eco-nest!  Great plan for a remote vacation getaway or full-time rural home.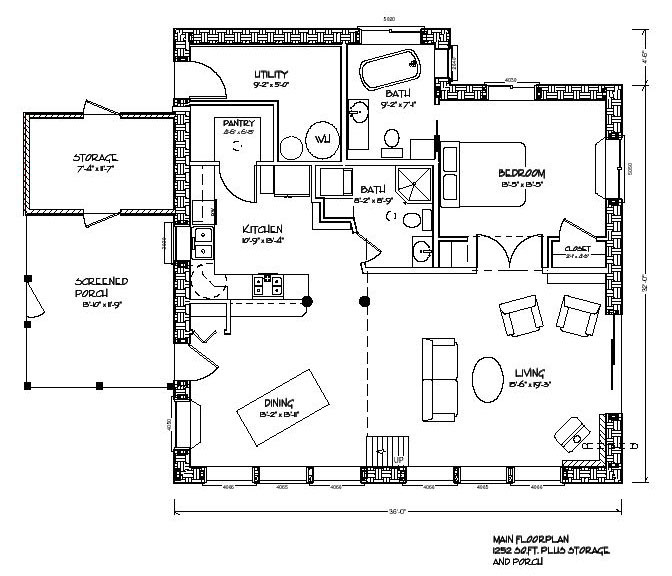 For more information about this plan, and many others, visit our sister site www.dreamgreenhomes.com, where you will find a wide range of plans for sustainable homes, greenhouses, small buildings, garages, and food storage space for sale. Dream Green Homes is a consortium of outstanding architects and designers, who have pooled their talent and expertise for your benefit.
Informative Links
General
California Straw Building Association FAQ's and technical information.
caneloproject.com Bill and Athena Steen's lovely site devoted to their work with strawbale building and the use of natural plasters; books, videos, articles and workshops are available.
strawbale.com provides some detailed articles on various aspects of strawbale building. To find out about the how-to DVDs that they sell go to the top of this page.
deboerarchitects.com Some thoughts and illustrations about strawbale building by architect Darrel DeBoer.
Here's a page about straw bale house construction made by my wife.
communityrebuilds.org aids income-qualifying families in building affordable and energy-efficient strawbale homes.
Education
naturalhomes.org lists workshops from around the world related to strawbale building.
earthnstraw.com features news, workshop listings, and a forum on strawbale building.
anvilstrawbale.com offers an online course for building a strawbale house and the website has much information.
Media
thelaststraw.org home of The Last Straw Journal.
eesi.org/briefings described briefings made to the US Congress about the viability of strabale building in June, 2008; includes actual presentations and audio.
dcat.net You can download a free PDF of Build it with Bales by Matts Myhrman and S. O. MacDonald.
Actual Homes
sbregistry.greenbuilder.com is a registry of strawbale homes across the U.S., orgainzed by state, with an indication of whether the owners are open to visitors or not.
lamaisonenpaille.com extensive site devoted to straw bale projects in Europe and India.
strawbale-building mostly links to other SB sites, but does have a database of SB houses in the UK.
quietwater.net some good, detailed information about a particular non-load-bearing strawbale project.
EcoNest.com features light straw/clay construction.
This Crestone Bed and Breakfast is a very nicely done two-story strawbale.
Directories
strawbale-building mostly links to other SB sites, but does have a database of SB houses in the UK.
Discussions
earthnstraw.com features news, workshop listings, and a forum on strawbale building.
Products
ferrocement.net sells a very clever and well made plaster sprayer that will handle a wide range of plaster types, from earthen to ferrocement.
Codes
dcat.net lists Strawbale Codes specifically for Texas, California, Colorado, and Arizona.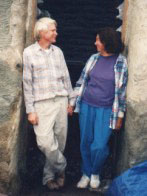 For Email contact go to About Us
Established in 2001, GreenHomeBuilding.com is primarily a labor of love. Kelly, and the GreenHomeBuilding team of experts, have answered thousands of questions for readers over the years, and we continue to publish up-to-date information about increasingly important sustainable architecture. If you feel moved to assist us in this work, your kind donation would be much appreciated; this can be easily done through our PayPal account:
Custom Search
Disclaimer Of Liability And Warranty
I specifically disclaim any warranty, either expressed or implied, concerning the information on these pages. Neither I nor any of the advisor/consultants associated with this site will have liability for loss, damage, or injury, resulting from the use of any information found on this, or any other page at this site. Kelly Hart, Hartworks LLC.