.
The Seabird Island Project
The Seabird Island Project, located about an hour and a half from Vancouver, B.C. in Canada, is part of the Seabird Island First Nation's Sustainable Community Plan. The idea behind sustainable community planning is to use land and design neighbourhoods in a way that reduces costs and minimizes environmental impacts, while creating a livable community – to create housing that serves our needs now, in the future and in our children's future. The basic concepts of sustainable planning can be tailored to every community's unique needs. The Seabird Island homes are designed to be:
• Affordable – affordable to build, operate and maintain
• Durable – they use high quality materials with a long lifespan and construction techniques that will reduce
future maintenance and repair problems
• Energy efficient – their design integrates renewable energy sources such as wind, solar and earth energy to
save on heating and lighting costs
• Achievable – easy to change and maintain
• Flexible – they use flexible floor plans and barrier-free designs to accommodate the changing needs of
families and Elders
• Healthy – they use healthy building materials, have superior indoor air quality and are more comfortable to
live in
• Environmentally responsible – they conserve resources, use recycled materials and have a low environmental
impact
• Community oriented – they reflect the preferences, culture and needs of the community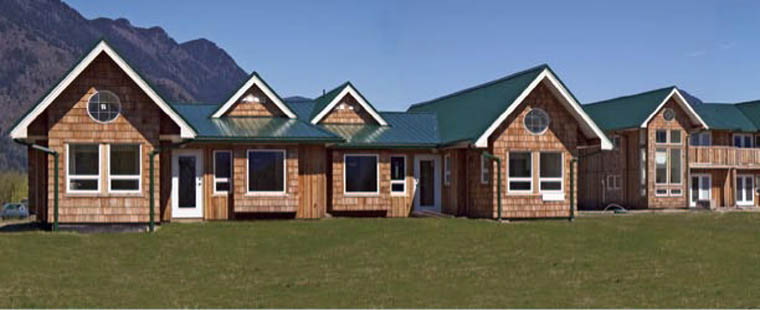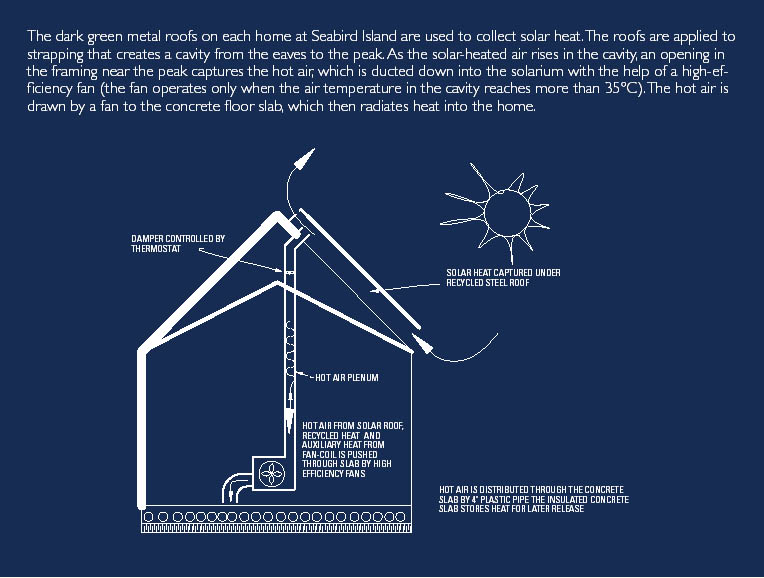 The homes at Seabird Island are extremely energy efficient; heat and energy are supplied by the earth, wind and sun. They are also highly affordable to operate – energy consumption is reduced by up to 75% for a typical home. Three wind generators at Seabird Island, which is a very windy site, contribute about 15% of the total energy required by the homes. Most space and water heating is provided by four inexpensive, low-tech methods: a solar roof, earth tubes, radiant heat floors and recirculated hot air from a solarium. There are no furnaces in the homes, only gas hot water heaters supplemented with a fan coil (for two-storey units).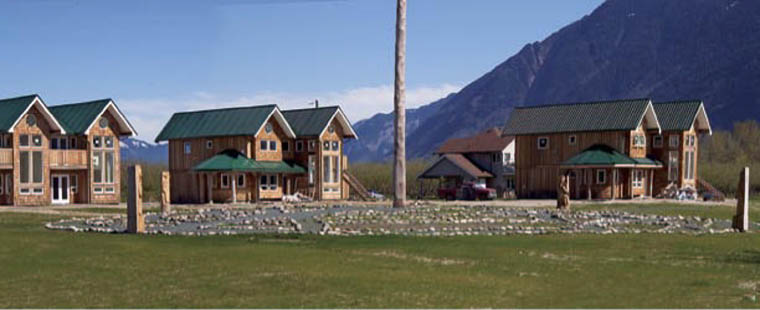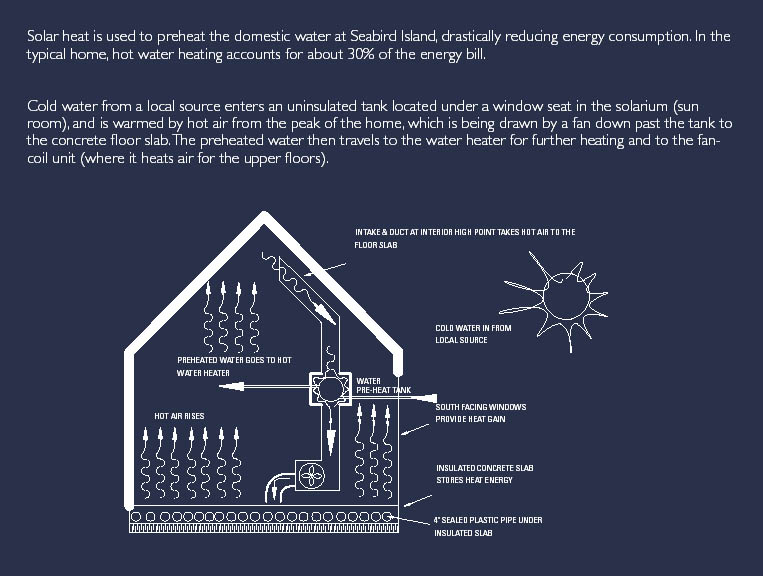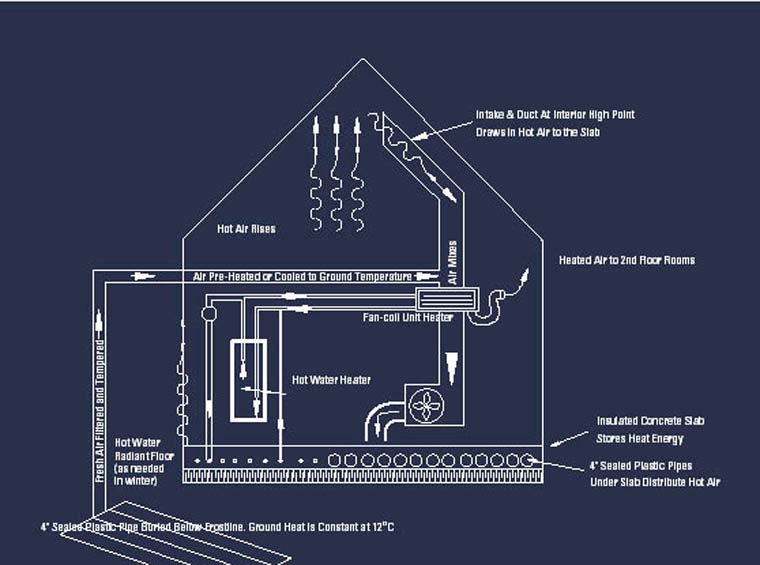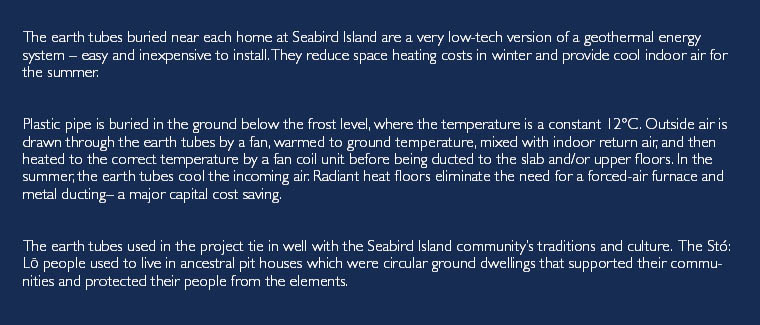 Broadway Architects (Sieniuc + de Ridder) is an interdisciplinary architecture and community planning practice that offers sustainable environmental design as part of our standard services. Our projects and client list are diverse: recreational, commercial and residential developments and planning projects for communities, resorts and First Nations throughout western Canada.

We advocate a participatory planning and architectural design process and our projects are very client driven – each project attains its own distinct identity from speci.c historical, cultural and environmental contexts. Our firm is a pioneer in ecologically sensitive building design, particularly in projects that incorporate energy-efficient and sustainable development strategies. We have more than 25 years of hands-on experience in this area. We are honoured to have been the architectural and planning consultant on the Seabird Island Project. For more information about our work, please visit our Web site at www. broadwayarchitects.com or call 604-731-0009.

Tang G. Lee is an architect and teacher who is committed to providing better buildings in which to work and live. He worked with Broadway Architects on the design of the Seabird Island Project. In addition to working as a consultant to other architects he operates his own practice, writes position papers for all levels of government and teachews building science and environmental health at the University of Calgary. To view some of his projects and papers, visit his web page on the University of Calgary Web site (www.ucalgary.ca) or e-mail him at leeATucalgary.ca.
For Email contact go to About Us
Established in 2001, GreenHomeBuilding.com is primarily a labor of love. Kelly, and the GreenHomeBuilding team of experts, have answered thousands of questions for readers over the years, and we continue to publish up-to-date information about increasingly important sustainable architecture. If you feel moved to assist us in this work, your kind donation would be much appreciated; this can be easily done through our PayPal account:
Custom Search
Disclaimer Of Liability And Warranty
I specifically disclaim any warranty, either expressed or implied, concerning the information on these pages. Neither I nor any of the advisor/consultants associated with this site will have liability for loss, damage, or injury, resulting from the use of any information found on this, or any other page at this site. Kelly Hart, Hartworks LLC.