This program offers a wealth of information about construction details and other considerations. It covers adobe block construction, piled adobe (similar to cob), rammed earth, both load-bearing and post and beam strawbale, earthships, earth-sheltering, cordwood, thin-shelled concrete domes, papercrete, earthbags, hybrid structures, and recycling various containers for housing.
The books shown below are arranged according to when they were published, with the most recent ones at the top. If you click on one of the images you will be taken to a page at Amazon.com where you can find out more about the book. If you end up buying one of them, greenhomebuilding.com will receive a small commission that will help cover the cost of maintaining this website. Thanks for your patronage.
Plans
Baca Hybrid
Kelly Hart, Designer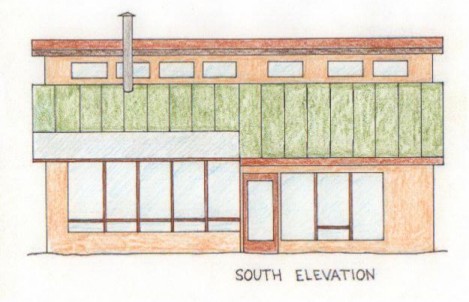 This is a 2 bedroom, 2 story (3 levels), 1250 sf (to the outside) house that was designed as a hybrid, passive solar model to demonstrate the plan elements needed to submit for review in a covenanted community. It is a compact design that incorporates many aspects of sustainable architecture, including an attached solar greenhouse, a naturally cooled pantry, and the use of some natural, local materials (earthbags and strawbales). The appearance is fairly conventional, but it does have a curved north wall, for interest and strength of structure. It should be quite energy efficient, requiring little back-up heat (provided by a wood or gas stove). Even though the square footage is small, with the three levels there is much diversity and interest inherent in the design. The upper loft area would be accessible via a separate entrance on the north side. Clerestory windows facing south bring light to the upper level rooms, and provide excellent ventilation for the entire house. The house could be situated on a south-facing slope, or artificially bermed on the north, east and west sides.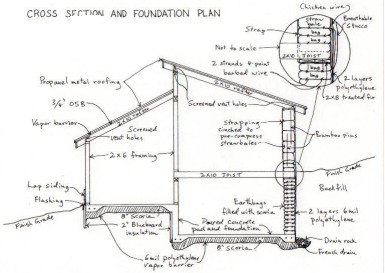 This cross section shows the hybrid nature of this design. The primary exterior walls of the lower story are made with earthbags filled with insulating material. These walls on the second story, above grade, are strawbale. The rest of the structure is more common stick-frame construction. The foundation is a poured monolithic slab over insulation, providing much of the necessary thermal mass for good passive solar performance.
For more information about this plan, and many others, visit our sister site www.dreamgreenhomes.com, where you will find a wide range of plans for sustainable homes, greenhouses, small buildings, garages, and food storage space for sale. Dream Green Homes is a consortium of outstanding architects and designers, who have pooled their talent and expertise for your benefit.
Informative Links
This is about our Roundhouse at Brithdir Mawr, near Newport in Pembrokeshire, Wales, UK. A self-built and designed ecohome of wood, cordwood and cob construction, partially earth sheltered and with a turf roof.
hybridadobe.com Site with lots of pictures and description of a variety of hybrid papercrete/adobe/strawbale structures.
groundwork.org Groundworks Institute's Nicaraguan Project details how they constructed a $300 house using local materials.
beingsomewhere.net A wonderful example of a hybrid home made from local, natural materials in the United Kingdom.
youtube.com features the building of a Bamboo/Strawbale building.
redearthjourney.blogspot.com shows how abarn-style hybrid earthbag/strawbale/recycled wood home was built.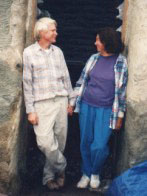 For Email contact go to About Us
Established in 2001, GreenHomeBuilding.com is primarily a labor of love. Kelly, and the GreenHomeBuilding team of experts, have answered thousands of questions for readers over the years, and we continue to publish up-to-date information about increasingly important sustainable architecture. If you feel moved to assist us in this work, your kind donation would be much appreciated; this can be easily done through our PayPal account:
Custom Search
Disclaimer Of Liability And Warranty
I specifically disclaim any warranty, either expressed or implied, concerning the information on these pages. Neither I nor any of the advisor/consultants associated with this site will have liability for loss, damage, or injury, resulting from the use of any information found on this, or any other page at this site. Kelly Hart, Hartworks LLC.