.
Education about Vernacular Architecture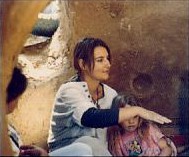 Paulina Wojciechowska was born in Poland and spent her formative years in Afghanistan and India. She became fascinated by age-old architecture created by artisan builders. After studying architecture in Great Britain, she traveled to the United States and Mexico to study natural, alternative and indigenous building methods. She apprenticed with Nader Khalili at Cal-Earth, as well as with strawbale building pioneers Athena and Bill Steen at the Canelo Project. Out of this experience, she has written Building with Earth: A Guide to Flexible-Form Earthbag Construction (Chelsea Green, 2002) which is the first book published on the emerging methods of earthbag building. Paulina has established a nonprofit trust, "Earth, Hands & Houses," which supports building projects that empower indigenous people around the world to build their own shelter from natural materials that are available locally. She would be happy to consult on any project that would employ her broad range of training and skills.
Questions and Answers
Q: I am an architecture student doing research about the vernacular architecture of the indian temples as well as that of domestic japan, please send me information as soon as possible.
A: The 'Encyclopedia of Vernacular Architecture' by Paul Oliver, or the internet are two great places to start the research on all types of indigenous architecture. Good luck with the search.
Q: I am a practicing architect in Florida and wish to build a small garden pavilion as a means to learning the design or techniques of ancient Islamic dome and vaulting construction. On the internet, I have found no articles or books explaining how the Islamic Iwan or stalactite vaulting is accomplished with brick or stone. I am especially interested in the pendentive-to-dome methods seen in mosques in Isphahan, Iran. I have many books with photographs and drawings showing plans and surficial information, but none with appropriate sections or construction/explanation details. Could you help steer me in a direction where my dream of matching the ancient construction techniques in a small pavilion could come true?
A: There is some information on building domes and vaults, but I would have to take a bit of time in finding the sources. However there is a very detailed video on how to construct parabolic vaults from an organization in Denmark: DIB, Dansk International Bosatningsservice, Klosterport 4E, DK-6000 Arhus C, Denmark, Tel: +45 86 13 19 07, e-mail: dibATdib.dk. Also a book that doesn't have that much detail but explains the construction theory a bit: Ceramic Houses and Earth Architecture: How to Build Your Own -- Nader Khalili (Paperback - Chelsea Green Pub Co - February 1999 (you can get this from www.amazon.com). There are also a book which you can get from Intermediate Technology bookshop in London, but I don't remember the title. www.itdg.org. Also Building with Earth by John Norton.

Q: I'm an architect; I finished the university 4 years ago, and I don't have my grade yet. I did a permaculture course too. I'm trying to study more about natural building, I want to know more. I'd like to start to work with that, but in my country it´s a little bit difficult because the people think that the free natural materials are only for poor people, we need to create a conscience of the value of the natural resources. I want to learn more to teach others about the wonderful world that we belong. Peace from Peru!
A: (Kelly) What you are facing in Peru is similar to many places around the world, where the local, traditional architecture is considered cheap or old-fashioned and is not valued for the truly sustainable way that it is. You are right that education is what is needed, which can include making demonstration projects that showcase the value of building this way. Keep up your good work!
Q: what advice do you have for Architectural Draughtsmanship student who wish to became architects?
A: I would say study as much as you can when you have the chance. Its really worth it because it gives you more choices in life. Do lots of 'hands on' building, but when you study architecture don't get too bogged down with the problems of how buildings stand up, just enjoy the creative process of design, because you can not learn that from textbooks.
Q: I am studying architecture in India. I have an interest in vernacular architecture. I want to specialize in that, so what are the ways for that, after graduation?
A: If you want to specialize in vernacular architecture after graduation there are a few places where you can do a masters course with the vernacular element as part of the course, and Oxford Brookes University in England is one school of architecture where you can do this. In fact its the best for this course. I am afraid I don't know in which universities in India you can do a masters with this element as a formal part of the course, but generally most schools of architecture are quite flexible and allow you to specialize in whatever aspect of architecture you want to specialize in. If this is not the case in India, you will need to research as to which school gives you the freedom to do this. The other route is to do the studies in a conventional way and then specialize afterwards.