Q: Having somewhat recycled myself, (completely starting over from having essentially nothing, to getting two degrees, to starting out in the workplace at almost 60 and building a life for myself) I am interested in the idea of purchasing a building that is scheduled for demolition and moving it to a site where I can renovate it and add on using green materials such as papercrete/paper adobe, natural plasters and paints, and energy efficient heating, cooling, power, etc. I live in Albuquerque, New Mexico, so I certainly have the advantage of plenty of sun, and the precedent setting by numerous green built projects throughout the state. Any suggestions as to how to get started or sources for used buildings?
A: A good starting point would be your local Habitat for Humanity or other used building material enterprises. I believe Alb. has several. Then try the department of transportation. They usually have buildings that have to be taken down to make room for new roads or expanding existing roads. I got started by just driving around and looking for abandoned homes and asking about them. Your local county assessor would be able to tell you who owns what. I enjoy the process as I find out history of place in so many cases.
Q: I read almost every word on the site but I did not see anything on recycled lumber. I use a tremendous amount of recycled lumber in my business, most of which is pure labor cost, nothing for the materials. The materials I use come mostly from demolished buildings and I obtain a lot of material through local green waste recycling centers. Additionally most of the doors and windows I use are recycled or at the least bone yard picks. Of course design is different when recycled materials are used, since the materials need to be ascertained before the design is finalized.
A: (Kelly) I am totally into using recycled materials, including lumber, for building homes. I have used a lot of recycled lumber myself over the years, and have built whole houses with it. Recycling makes such intrinsic sense when you evaluate materials according to their embodied energy.
Q: I live in the Cleveland, Ohio area. Years ago I purchased about 50 feet (7 sections, roughly 7 feet wide by 5 feet high) old, heavy, wrought iron fencing. It is a simple design, square, and really sturdy. I have stored it for years waiting for the right place to use it. However, I have to move and would appreciate greatly any thoughts you have on who might be interested in purchasing it in my area. What do you think? I'd really love for it to go to a good home.
A: There is a wonderful resource for finding the right home for items you have harvested from the world - www.craigslist.com. I would recommend that you offer it to anyone willing to come and pick it up. Harvesting items is the first step in recycling, obtaining a yield completes the process. Other ways to find a home for the fence is to post signs within a 5 mile radius of your home in supermarkets. Try to think of success outside of financial gain. Success is honoring Gaia.
Q: My husband is a general contractor and has been building for many years. I am interested in organizations or building standards that exist in Boulder and Larimer counties of Colorado so that he could produce "green built" houses. I have seen homes marketed as "green" and I wondered what justifies this? Before we met I have had a few homes built by larger companies such as Richmond and Melody homes and they marketed some of their homes as green built.

We are currently building a home in the mountains and I have a strong desire to use recycled woods, metal and other products. I have been very impressed with some decorating designs that I have seen in New Mexico, so if you have ideas of where I could look for items to be used for finish work/decorating and general building please let me know. I would be willing to make a trip to the area to get the materials if needed.
A: Boulder is a great place to find recycled products. My favorite recycle yard is Resource 2000 out near the Recycle Center. It has a great selection and is always changing. There is another place that specializes in plumbing stuff but I can't remember its name. Check out the yellow pages or ask at Resource 2000.
There seems to be some confusion as to what a Green Built Home is and it has become a marketing term that is getting abused. The closer your home gets to zero energy input the greener you will be. Once you start to actually produce more energy than you can use then you become beneficial to your environment. Remember that you have to calculate your embodied energy costs (the cost to the environment to produce any building materials which includes transportation costs, read as pollution, ). This is a challenge and you need to be diligent in your beliefs. You will be constantly tested when talking with contractors that can only work within their own comfort zone. Just because someone can design a house or pound nails does not mean they can do it consciously.
Q: I'm investigating the re-use of lumps of weak concrete that was originally cast in jute bags to build mounds in an explosives factory. Is there information available on the reshaping and re-stacking of this form of concrete?
A: (Jennifer Corson) This is a tough one. I'm not familiar with reuse of concrete to any great extent, nor the size of the 'lumps' that you are referring to. It would seem to me that any cured concrete would need to be tumbled, or crushed, back into an aggregate form for potential reuse. Depending on the availability of a crusher, and the charges for the service, it may be an expensive option. Otherwise, as is, I'm unsure of the ability to reincorporate it into a construction product. Is it in a brick-like shape that could be used in a wall construction? Sorry not to be of much help.
A: I am interested in your advise about how to approach the sustainable building/recycled materials/alternative building industry as a possible career. As I continue building my own cordwood and timber frame cabin on my family farm in Tennessee, I'm realizing my love for this type of work and want to pursue it more. I've collected used/broken power poles from a local utility company for the cordwood walls. I enjoy the combination of design, hands-on building, and the good tension that comes with building sustainably and responsibly. What companies or individuals do I need to connect with to pursue this work as a career?
A: There are many great sites to get you started in the biz. A word of advice and caution. Make sure you have a place you can grow into to stock your inventory. Relocating the harvest can be quite the chore. You may want to check with your land use department to see what types of businesses are allowed in different areas of your county.

Q: Was one of your incentives for pursuing green architecture trying to save the environment? If so, do you feel like you are doing so, and do you know how much material you have recycled over the years?
A (Kelly): In answer to your question "Was one of your incentives for pursuing green architecture trying to save the environment?", I say emphatically YES...this is the primary incentive!
"If so, do you feel like you are doing so?" Everybody has a part to play in trying to fashion a sustainable future for our planet and the life forms on it. Yes, I feel like I am doing my bit; www.greenhomebuilding.com averages over 2500 unique visitors each day, and every one of those people leaves with some greater understanding of what the issues are and how each one of us might approach solving them.
"Do you know how much material you have recycled over the years?" No, but I can tell you that I have been an inveterate scrounger ever since I can remember. I tend to save practically anything that might have some value in fabricating something sometime, and I do a lot of fabricating, from eyeglass repairs to whole houses...even a solar vehicle.
Q: I am a student of interior design and my thesis is on eco-friendly interiors. I have limited my study to recycled and natural materials. Can the study be further limited to only natural materials or only recycled & recyclable materials? If yes, how and what criteria should be considered with respect to sustainability? Should I also study the manufacturing processes or just study the properties? I am a bit confused. It will be very helpful if you clear my doubts.
A: Having been in the field for a number of years now I have found that the first line of investigation is how sustainable is the use of a material in a given project. Stepping back further you need to find a truly all-encompassing definition for sustainability that considers our ability to survive on this planet 7 generations into the future. Once you understand the inter-relatedness of everything on the planet then you may be able see the answer to your question from a much more perceptive place.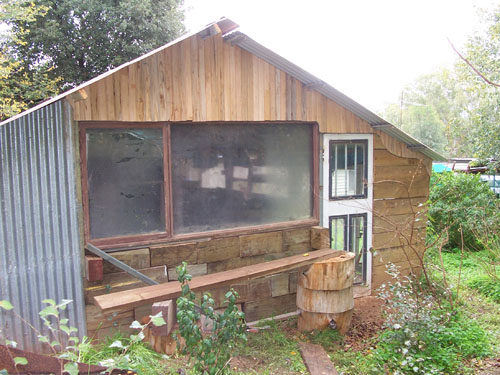 Q: If a person was to use non sustainable materials to build a house, and got these materials from a recycled source or rubbish would this house be classed as sustainable? This is my rubbish house.
A: (Kelly) Absolutely. Recycling materials is one of the most sustainable practices going.
Q: What resource can give us for the locations/costs of inexpensive old buildings/houses that need to be relocated?
A: Check in with your local building department. They may have a list of folks that deal in moving old homes. Real estate agents are another source.
Q: I have a solid brick home that burned Christmas eve. It has to be gutted completely. Is it possible to rebuild this home with green materials. The brick and roof are fine. Its located in southern Indiana. If so, where do I start?
A: (Kelly) I am so sorry to hear about your loss. Certainly if the brick walls and the roof are reusable, then that is your best option; recycling materials is one very good way of being green. Just how you might reuse these depends partly on whether you can keep the existing structure as is, or whether it will be necessary to dismantle it and start over. You may want to discuss your options with a local professional who can actually look at your situation. Bricks are great thermal mass, which is best kept on the inside of the wall, so one approach might be to leave the bricks walls intact on the inside (either as visible bricks or plastered), and then insulate these walls on the outside with something else, such as strawbales, earthbags filled with volcanic stone, perlite, or rice hulls, or even use a commercial insulation panel and stucco (which has the possible advantage of not requiring additional foundation work.)
Q: I have plans for a home around 2300 sq. ft. I want to use recycled materials and would like to know cost, sites, and if any of the manufactures donate to individuals? I can't build a box, so I would have to have a contractor.
A: I am pretty sure this is not the sort of question I can answer. It all depends on finding the right contractor that can guide you. Developing a trusting relationship with a contractor will be crucial to how your home unfolds. Don't settle on the first person you find until you have had a chance to speak with several. Let them know your needs, budget and quality you expect.
Q: I have spent a little time looking into shipping container homes and wonder how good or bad they are in desert type climates.
A: (Kelly) Shipping container have to be insulated to be comfortable in any climate, but otherwise they should make a decent home in a desert climate. If I were to build something in a hot/dry climate, I would go underground, and I think it is possible to bury a shipping container, if the engineering is done properly.
What is the best green insulation for this type of home?
One excellent natural insulation is a volcanic stone called scoria. If this is available in your region, you can use it to fill earthbags to line a container. Another possibility is to fill the bags with rice hulls if they are nearby. See www.earthbagbuilding.com for more about these possibilities.
Q: I was wondering if grocery store plastic bags would make effective insulation. It is difficult to recycle them. 10 years ago I lived in a yurt in Idaho. We'd save bags full of bags and use them to stuff into drafts.
A: Yes, plastic bags make great insulation. When we build Grow Domes for folks we stuff all the plastic shipping stuff behind the water tank for extra protection against freezing. Better though is to begin taking reusable bags with you for shopping and stop using plastic bags.
Q: I read the article about purchasing an old house and moving it ( recycled house). How would one go about finding houses that need to be moved?
A: The process varies from town to town. You will have to do bunches of research. Find out who in your area specializes in moving houses and let them know you are interested. Also check with real estate agents as they usually know about houses that need to be moved off of land that is being sold. Make sure to leave your number with these folks to contact you when homes come up.
Q: Would you be able to give me some ideas of where to inquire for cheap materials? I'm not familiar with where to locate windows, doors, roofing materials etc.?
A: (Kelly) There are many ways to find used building materials. Keep your eyes on local classified ads or bulletin boards for one. Also, many areas have stores that collect and resell such materials. Habitat for Humanity operates many such places, often called "Restores". You can often find seconds or slightly damaged materials in regular stores, especially glass shops where perhaps the wrong size was made. Another place to check is your local dump, where they may set aside usable materials that have been brought in, and are free for the taking. Even dumpster diving can be productive, especially dumpsters that are set up to collect refuse from construction projects. Then you can also look for houses or buildings that someone wants removed or taken apart for some reason, and you can salvage much useful material that way. If you can gather such materials beforehand, then you can design your structure to use them.
A: (Owen Geiger) Craiglist often lists building materials: http://www.craigslist.org. Check with various tradesmen. For example, plumbers replace sinks and bathtubs, and soon have a large quantity of used ones. Also, check with demolition companies. I heard a good story about this. Technically it's illegal for them to allow people in to remove parts of the house they are demolishing. (Insurance and safety reasons.) But I overheard how you can slip these companies a couple hundred in cash and sometimes they will let people go in at night. It's easy money for them, plus they probably tire of seeing perfectly good materials going to the dump. In this case, this guy was making a living of it. He lived in a high end community where nice homes with oak floors, etc. were being torn down and replaced with McMansions. He stockpiled the best parts and resold them. Maybe you're not comfortable doing something like this, but the workers at demolition companies could point you to some of these sources.

Q: My wife and I are doing a major remodel of our house and would like to be as green as possible. We'd like to contact a company or organization that will accept as much of the fixtures, building materials, etc, as possible, rather than just throwing stuff into a dumpster. What is the best way to locate companies that will recycle these materials? We live in Kitsap County, Washington.
A: Hopefully there is a building material recycle store near you. Try http://www.habitat.org/env/restores.aspx. They have locations all over the US.
C: I have a building that people wanted me to tear down and I remodeled it all with recycled materials. It turned out so nice that now it is photographed daily by people from all over the world since I am on the way to the 8th wonder of the world: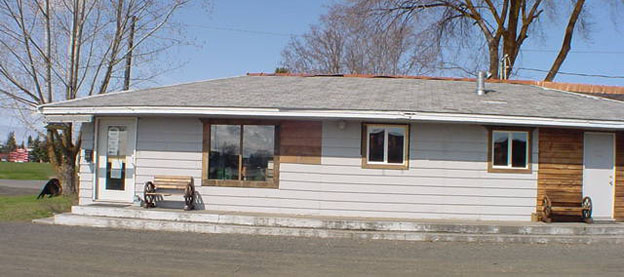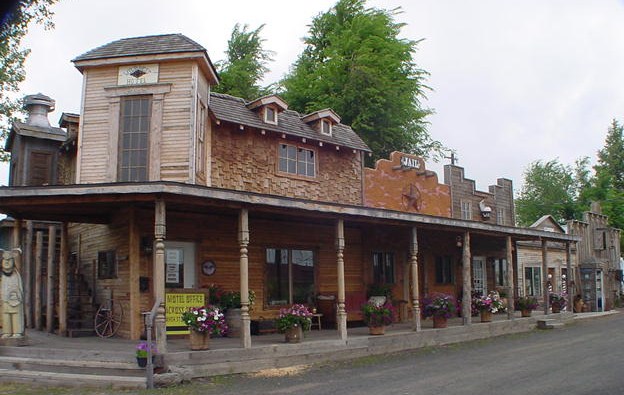 Q: My husband and I just bought our first home. We are looking at becoming more energy efficient. The home we bought is an old farmhouse. We have been trying to find used materials but in this area of Wisconsin it's not easy.
A: One of the best ways to get used building materials is to look for places that need to be deconstructed. I am still using materials from the deconstructions I did years ago. Other than that check out all the usual resources like Craig's List, local Penny Saver papers and put notices up around your town that you are looking for used building materials.
Q: I am busy with a project to resettle 1 million displaced people in South Africa. We have to do it without any funds and have a network who donates used and recycled materials. People build their own homes. At the moment these people are destitute and we are a group of friends who are assisting them to create a self sustainable environment. It will be in the Kalahari, which is semi desert. I would like to know if I may ask for some technical advice as the Earthship design is perfect on so many levels.
A: (Kelly) This is a wonderful humanitarian project, and anything that you can do to improve the lives of these people will be worthwhile. Relying on used and recycled materials to build homes is definitely economical and ecological, but you might be limited by available supplies. Earthships do use recycled tires and aluminum cans, but many of the other materials used to build them are not necessarily recycled; they are also very labor intensive to construct, since all of those tires have to be manually pounded full of earth.
Q: I'm trying to learn more about building an eco friendly home from ground up out of recycled materials or containers. I am in Nebraska. I'd prefer to stay around here. I am completely lost though. I don't know where to start. I know you have to buy the land first, but I don't know what the laws are as far as building a house like that and I hear that they like to destroy what you've built because it's off the grid. My question is, how can I build an eco friendly home from the ground up and where do I find the resources to learn more?
A: A good place to start is to find out what is the largest size building you can build without following building codes. Most likely you will find that a 200 square foot building does not have to be coded but it is different for each county. 200 square feet may sound small but it is actually pretty spacious if you are living by yourself or one other person. Also 200 sq ft is small enough that you can experiment with your chosen alternative building style. It is better to make mistakes on a small scale rather than waste time, energy and money on a large scale project.
There are plenty of choices as to eco friendly homes. This website has plenty of information to get you started. These days there are plenty of workshops you can attend to give you hands on experience.
Q: I have been down the rabbit hole of building a home. I've landed on stick built with thermal solar heating and solar for electricity as well. I think I've ruled out geothermal energy. But I'm wondering if building from recycled materials, as good as it can potentially be for the earth, is also cost effective?
A: It always concerns me when I hear environmentally friendly and cost effective in the same sentence. There are compromises and considerations that play into the equation. What are your sources of material? Will they be free? Will you need to deconstruct another home to get what you need? How will you insulate? Or, will this be timber framed where the logs are thermal mass but not insulative? More money will be spent on a roof because of higher insulative and sealing needs. What about windows? New or used? Would you consider an earth-bermed home or earthship? Are you building in an urban area or rural? How strict are the codes and who is paying attention? What about strawbale where the bales act as both walls and insulation. How much time have you got? Is there a family dependent on you finishing quickly? There is quite a bit of planning that goes into the preliminary building process. If you will be heating with solar hot air you want to lay ceramic pipes first to get the most from infloor heating as well as figure out solar gain in winter. There are tons of questions and yet your best resources will be to find locals that are doing similar things in your area and pick their brains. Both Kelly and I learned much on our own (and made mistakes on our own) and we also asked others for their insights. Your advantage is that there are more people now than there were when we built.