.
Plans for Cordwood Building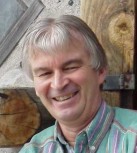 Rob Roy is Director of the Earthwood Building School, which has specialized in cordwood masonry instruction since 1980. Rob and his wife, Jaki, have built four innovative cordwood homes for themselves since 1975, including the Earthwood home where they have lived for over three decades. Earthwood is a 2400 SF two-story round, load-bearing cordwood home, earth-bermed and earth-roofed. Details of construction are in Rob's Earth-Sheltered Houses (New Society, 2006) and Cordwood Building: The State of the Art (New Society, 2003) two of fourteen books he is written in the alternative building field. Rob and Jaki have taught cordwood masonry in Earthwood Building School all over North America, as well as in Chile, New Zealand, Australia and Hawaii. They have helped scores of owner-builders with their cordwood projects, including homes, saunas and outbuildings. Earthwood has produced a 3.25-hour DVD on cordwood construction, which, with his books, can be accessed through the Earthwood website, or on the Cordwood page here. Rob is considered to be one of the leaders in the field of cordwood construction and earth sheltering. He does individual consultations at a flat rate of $75/hour, but answers questions here without charge. See also Earthwood Facebook.
Questions and Answers
Q: Hello, we live in north coastal Maine aka 'DownEast', and are thinking of building a cordwood home. We are aiming for roughly a 24x24ft. house, approx. 500 - 600 ft2 of living space, considering a shed roof, and seeking the best book we can find to guide us through. Novice home builders, yet determined, we need a book to be quite detailed and very explicit as far as technical construction. We would like to design a home using our little money, many trees, and a small chainsaw-did we mention determined? :) We are thinking of a 16' south facing wall, and 8' north wall with the shed roof for the solar gain. We are having trouble finding detailed plans to fit our needs and desires. We feel somewhat good about the primitive plans we have but need a resource to fill in the blanks. ie.-foundation in a moist area, chimney footing, needed framing and supports (are we over doing it or under doing it), and the like. We two cold artists in the woods here (Matthew & Rhiannon), will be grateful for any help/advice/info/input/support/a hug..that you can give us. Thank you and Jaki for trying something renewed and hopeful, and bringing an ancient idea into modern life for new generations of builders.

A: Wow, there are a lot of questions there. I'll do my best.

1. It is good that you will be building a fairly small house. This not only keeps the cost down, but makes it a more manageable project. Keeping the plan simple is just as important as keeping it small. I have a friend, Rob Pichelman, who built his own beautiful cordwood home in Merrill, Wisconsin. He can take your own plans and redraw them so that they are suitable to submit to a building inspector. Rob is not an architect or engineer, so he cannot stamp the plans, but they will be in presentable form and he does not charge a lot for his valuable service. Write to him at N2701 Snow Road, Merrill, WI 54452 or call him at 715-536-1386.
2. The only shed roofs that I have built have been heavy plank-and-beam roofs for supporting earth roofs. These must be engineered properly for the earth load and your local snow load. With other shed roofs, I would suggest getting local advice from the building department or from other people who have already built a similar design to what you want in your area. Engineered shed roof trusses are also available. They are strong, quick to install (with some experienced help), and quite reasonably priced.
3. The best book on foundations, in my view, is Foundations and Concrete Work (Taunton Press, 1998, ISBN: 1-56158-330-8). Try a library or book store, or order it from Earthwood, 366 Murtagh Hill Road, West Chazy, NY 12992. It is $17, which includes book rate postage.
4. For cordwood masonry and the shallow-pitched earth roof, I would recommend my own Complete Book of Cordwood Masonry Housebuilding: The Earthwood Method
Have you considered attending a cordwood workshop? Learn about them at www.cordwoodmasonry.com If you can't attend, our video Basic Cordwood Masonry Techniques, filmed at the workshops, is the next best preparation for cordwood building. I hope something here has been helpful.
Q: I have read Rob Roy's books, watched his videos and read other materials on stackwall construction... and I am sold on building a cordwood home. My ex-husband even said he will help me!! How does one go about getting plans for a such home? Plans that will cut the muster with those building code folks downtown who don't have anything in the existing Washoe County code on this type of construction? Just a simple square or round home as featured in Roy's materials (900-1200 sf) I am thinking it would be better to purchase plans that have already been "tried and true" and passed the codes etc. from another state then have an engineer here (required) wetstamp them after making sure they meet all of our wind and snow loading, etc. requirements. Does this sound like the right approach since I don't have a background in drawing these?
A: Getting a building permit is a major obstacle for some, and a piece of cake for others, depending on where you live and the kind of relationship you have with the code enforcement officer. Architect or engineer-stamped plans certainly make things a lot easier, because they take the pressure off of the bureaucrats. We offer plans for the round Earthwood house for $180, postpaid. These plans are drawn and stamped by a New York State licensed architect. People all over North America have used them to build the full two-story (2000 SF) house and also the one-story version (called Earthwood Junior, by some), which is 1000 SF. Write to Earthwood, 366 Murtagh Hill Road, West Chazy, NY 12992 or call me at 518-493-7744 if you have more specific questions. As you suggest in your letter, it would be much easier (and a whole lot cheaper) for a local engineer to check and stamp these existing plans - if necessary - than to start from scratch.

Back to code approval: The first steps have been taken in the formation of a Cordwood Builders Association, and one of the first priorities of that association will be to put together an authoritative booklet - with approved test results - that will address the kinds of questions, fears, and doubts that building inspectors sometimes have about cordwood masonry. An organizational meeting on this project is scheduled for June, and it may be a year before the document is ready for use. This is an all-volunteer organization of many of the top cordwood minds, but we are scattered around North America and things take time. In the meantime, my new book, Cordwood Masonry: The State of the Art (New Society, March, 2003) has four chapters on code-related issues. These chapters are re-writes, with new material, from articles that were presented as papers at the 1994 Continental Cordwood Conference. One of the most important aspects dealing with building inspectors is the approach that you take, covered extremely well in Chapter 27, Cordwood and the Building Inspector, by Dr. Kris Dick, a physical engineer. The book is $29, postpaid, from Earthwood. There are also a lot of new cordwood developments in the book, such as the use of cordwood with cob, cement retarder, and paper-enhanced mortar. There are lots of case studies from around the world.
Q: I bought the magazine "Country Gardens" fall 2007 issue...and love the cordwood shed...my husband and I have been talking sheds for years now and couldn't decide on style till we found this cordwood one in the magazine.
Where can I get the plans for it?
A: I have not seen the magazine you refer to, so cannot comment on it. However, many people have used my book, The Sauna , to build a garden shed, particularly the "six-poster" plan of Chapter Four. We even built a lovely garden shed of this design for our neighbor during cordwood workshops, complete with living roof. All the information you need to build this 10 x 15 cordwood shed (or a round one, 10 feet in diameter) is in the book. Go to www.cordwoodmasonry.com for more information, including an Order Form. The full-color book is $30 plus $2 Media Mail shipping from Earthwood, 366 Murtagh Hill Road, West Chazy, NY 12992.