.
Code and Permit Issues with Cordwood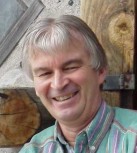 Rob Roy is Director of the Earthwood Building School, which has specialized in cordwood masonry instruction since 1980. Rob and his wife, Jaki, have built four innovative cordwood homes for themselves since 1975, including the Earthwood home where they have lived for over three decades. Earthwood is a 2400 SF two-story round, load-bearing cordwood home, earth-bermed and earth-roofed. Details of construction are in Rob's Earth-Sheltered Houses (New Society, 2006) and Cordwood Building: The State of the Art (New Society, 2003) two of fourteen books he is written in the alternative building field. Rob and Jaki have taught cordwood masonry in Earthwood Building School all over North America, as well as in Chile, New Zealand, Australia and Hawaii. They have helped scores of owner-builders with their cordwood projects, including homes, saunas and outbuildings. Earthwood has produced a 3.25-hour DVD on cordwood construction, which, with his books, can be accessed through the Earthwood website, or on the Cordwood page here. Rob is considered to be one of the leaders in the field of cordwood construction and earth sheltering. He does individual consultations at a flat rate of $75/hour, but answers questions here without charge. See also Earthwood Facebook.
Questions and Answers
Q: I've been really interested in ecological housing for many years but never encountered anyone in the UK who was doing workshops etc. except for adobe houses recently. I'm particularly attracted to the cordwood method and wondered if you could put me in touch with someone over here? The whole process seems a bit daunting on your own and particularly here with the price of land high and getting planning permission.- it's a bit of a minefield! People are very 'stuck in the mud' over here (excuse the pun) but there is a glimmer - the government has recently said it will fund 50% of any solar technology used in a building - YES!!
A: Thank you for your kind words and optimism. With regard to sustainable building in the , I wish I could be as optimistic. I lived seven years in Scotland, back in the 70's, and things like getting planning permission and building anything out of the ordinary were not easy then. Jaki and I have maintained close contact with Britain since then, but things have not gotten any better. The only home that I know of in Britain which made use of cordwood (combined with cob), was built about five years ago by Tony Wrench and Jane Faith at the Brithdir Mawr Community near Newport in Wales. The house was a cause celebre in Britain, and still is. It is an earth covered round house with the cordwood and cob on the portions above grade. Beautiful. I have visited it and Tony has written a fine book about it called Building A Low-Impact Round House, published in Britain. Ask at bookstores. The problem is that the house was built without planning permission and, after years of battling, it seems that the home will have to come down in February or March of 2003. To learn more about the long history of this house, search "Brithdir Mawr" on Google, www.google.com, for a whole list of pertinent articles and contact information for Brithdir Mawr. I'm sorry that I cannot be more encouraging. I truly hope that you will be the first to build a permanent structure in Britain using cordwood. If anyone else knows of a cordwood home anywhere in Britain, please let us know.
Q: My wife & I have purchased 65 acres in Missouri, 12 miles from lake of the Ozarks, and would like to build a cordwood home there. We have both been very interested in building a home from sustainable material. First we were going to build a rammed earth home, and my brother just bought one in Cuero, TX but since we have a virtual forest of hardwoods, and a little cedar we've decided to build cordwood. I've worked in construction all my life, and would like to know if you have any advice you could offer us on any and every aspect of this project, and what are some of the obstacles we'll be facing.

A: You ask about obstacles you might face. One possible obstacle is having to convince your local building inspector that cordwood masonry is structurally sound. I can tell you that it is, but my word may not cut the mustard with your local building department.
You also mention that you have hardwoods and red cedar to work with. This might be considered an "obstacle" with free-standing cordwood walls, as there is always the danger of such woods expanding if you build with them too dry. For this reason, lighter and airier softwoods are preferred. Happily, there is a solution that might take care of both of these obstacles. I strongly recommend that you consider building your cordwood walls within the confines of a strong timber frame (post and beam). This will make the code enforcement officer happy because he or she will be familiar with the load-bearing characteristics of the heavy timber frame. And you'll be doing yourself a favor, because you will be able to do the cordwood masonry under the umbrella-like protection of the roof, which will already be in place before you begin the cordwood masonry infilling. This greatly diminishes the likelihood of wood expansion problems, because the work is protected from all but the worst frog-strangling rains. As an added protection, do not dry your hardwoods too long, a month or two is plenty. You know that they are going to shrink, anyway, but that is only a cosmetic problem which can be addressed later on by one of several different methods. Finally, use the cedar down low, the first course or two, and use the hardwoods further up the wall.
Q: After nearly 20 years of dreaming about it, I have decided to take the long, hard road to trying to build a cordwood home for my wife and me. I recently bought an 8.5 acre parcel in the country in what used to be an unorganized township, but what has now been consolidated into the city of Greater Sudbury in Ontario Canada. I had no idea just how difficult it would be to convince building inspectors that cordwood is every bit as reliable and structurally sound as stick construction. My fear now is that I have purchased the land in vain, and that our dream home will never get built. I wonder if you could share your opinion, offer advice or shed any light on what we might do to meet the National Building Code Requirements. Is it unlikely I can meet the requirements or are there ways to make a strong enough case for cordwood that inspectors will grant a building permit?
A: (Kelly) From my own experience with the world of cordwood and building codes, I know that a lovely cordwood house was built (based on one of Rob Roy's designs) in Washington state under strict code supervision, by making a post and beam structure that passes all code requirements, and then simply using the cordwood as infill. I know that this is not necessary structurally, but at least it was an approach that enabled the builder to create his dream house.
Q: I have been wanting to build a cordwood home for 8 years. I live in Sewanee, TN. I am having issues with the bank appraisal, they don't know how to determine it's value. I thought they could use log homes to compare it for value. I keep running into dead ends. Do you have any advise?
A: Your attempt to compare it with log-building was a good idea. Too bad they didn't go for it. My advice to people building of cordwood is to do it within a strong timber frame (post-and-beam) structure. This affords the luxury of working under cover, generally makes the building inspector happy, and you should be able to pass the project off as a timber frame structure. The cordwood infilling, in this case, could be cordwood, straw, light clay, cob, zucchinis, almost anything. (Well, I probably wouldn't use the zucchinis.)
Q: I'm interested in building a cordwood home and am researching it all. I will need to find out the building codes etc here in Ontario. I haven't purchased the land yet till I find out it's okay to build one. Also from my understanding, I will need an official plan for building one...how can I get ahold of the plans for one?
A: We do have plans for the Earthwood house, which has been built a few times in Ontario. However, you should build the house that suits you. Plan it yourself and have an engineer get your plans into shape for submission to code enforcement. Often, if you do a post and beam frame with cordwood as infilling, this greatly facilitates the approval process. See also the book Cordwood and the Code at our website.
Q: I was looking into building a cordwood home in Ohio, but I ran into a little problem. I wrote a county inspector and he said that a big problem with the idea is that it wouldn't be using graded lumber, and to be up to code it would have to be graded lumber. So how would I get around this, or is there no way around it? I was going to use tulip poplar because I have an ample amount. So could I take the wood to a mill and have them cut it, and would it be graded? I'm kinda lost at this point.
A: If you build within a timber frame, the cordwood is not structural and does not need to be graded. In thousands of cases, including Ohio, I have never once heard of cordwood having to be graded. At sections 5 and 8 of the new International Building Code for One and Two Family Dwellings, the code states that all structural wooden members must be grade-stamped. New York State has provided a variance to this, returning the decision to the local code enforcement officer. In your area, it may be necessary for you to get your timbers grade-stamped by a certified grader. Tulip poplar is a hardwood, so you will need a hardwood grader.For softwood, go to: www.nelma.org For hardwoods see www.nhla.com/rules-corner/
Q: My partner and I wish to build a cordwood home near Salmon Arm, British Columbia; however, we are unsure about code and permit issues. We were wondering if you could shed some light on the legal process of cordwood building in BC?
A: Each state, province, county and even town has their own jurisdiction with regard to building permits, codes, planning regulations, etc. You will have to find out who has jurisdiction near Salmon Arm and run it by them. A very useful document is Cordwood and the Code, available from Earthwood Building School. Go to our website (www.cordwoodmasonry.com).
Q: How do DIY cordwood builders get the plans approved? How do cordwood homes pass local building codes?
A: The answers to your questions vary from jurisdiction to jurisdiction, be it local, state, or country. In some places, the process is relatively easy. Right across the street, things can be totally different, depending on the code enforcement officer (CEO). This is actually the case where we live in northern New York. Plans stamped by an architect or engineer always makes the process easier. Someone else besides the code enforcement officer is taking responsibility, which suits the CEO just fine. There is no reason why cordwood homes cannot pass local building codes. There are hundreds, if not thousands, of examples of this all over North America. Energy codes can be met.
Two other points may be of help. One is that many code officials understand the load-bearing characteristics of a strong timber frame. The cordwood masonry, in this case, is simply a non-load-bearing infill, one which is strong in insulation and thermal mass characteristics. Building with a timber frame - with the roof on - also affords the cordwood builder the compelling advantage of being able to build under the umbrella protection of the roof.
Secondly, there is an excellent document which came out of the 2005 Cordwood Conference in Merrill, Wisconsin, called Cordwood and the Code. It authoritively answers most of the questions that a code official will have about cordwood masonry: R-values, flame spread, mortar strength, and more. We sell it through Earthwood Building School. Here is a direct link to the page. Just scroll down to Cordwood and the Code, which comes with a CD.